Be Real: Month of Mothers: What's Your Legacy?
As mothers, it can be easy to get lost in the daily hustle and bustle of our lives. Whether you are a working mom or a stay-at-home mom, we all have struggles and multiple balls in the air. It can be tedious, stressful, and oh-so-very bittersweet.
We love watching those incredible moments – the first steps, the first giggle, the first crush, etc. However, does anyone else feel like the whirlwind of motherhood makes it hard to truly enjoy the individual moments of joy every day?
I often feel that my life is just a constant blur of preparation for the next moment.
What's next – OK, bath time – let's get ready for that. Or, sorry kid, I can't play right now, it's time to make dinner. Or, oh that playdough fun is going to have to wait because I have to do laundry.
Does anyone else feel like this?
I struggle with stopping my OCD brain from taking control too often because then I am missing out on those simple moments with my kids. And, often those simple moments are the sweetest.
I read an article somewhere – it could have been in a parenting magazine, but honestly it could have also been in the AARP magazine which we also get at my house – that talks about planning for your legacy.
This equates to motherhood as well. I am not talking about planning your financial legacy, but planning for what your legacy of life will be for your children. How will they remember you?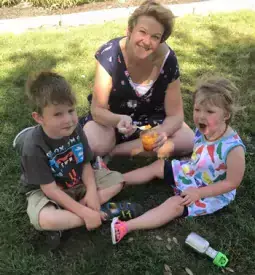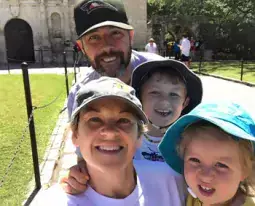 Will they remember this stressed out mama with frazzled hair and frantic eyes struggling just to keep all those balls in the air? Or will they remember the mom who stopped cooking dinner to play a game with them? (Sure, the meal ended up burnt, but peanut butter and jelly sandwiches tasted like a world class meal after all the fun you had playing together.)
I hope we can all take a moment this month to sit in a quiet space, drink a cup of hot tea, and really come up with a plan for our legacies. I want you to take that time to truly think about how you want to be remembered by those who are most important in your life.
They will likely remember the funny faces and silly games, not the well-balanced meals featuring the recommended quantities of fiber and omega-3s.
Be the Mom You Want to Be
At my son's school, they often ask the kids questions for projects – such as why do you love your mommy. In the recently sent home question sheet, my son's answer was that I gave great hugs and that he loved when I chased him around.
I will note that I hate playing tag. I am pretty sure that I have always hated tag. It seems pointless – BUT, the point is – he LOVES tag. And, that's the only reason I need to make sure that, even though I hate it, I make time to chase him around.
That's motherhood right there folks – doing things you hate because you know your kids love it.
I hope my kids know that I am here for them. I hope my legacy is one of love and understanding. Even though some days it can be hard to be as loving and understanding as I should be!
Do the best you can mamas, but make sure to remember that dinner and bath shouldn't be the top priorities – making those memories should be!
*You may have noticed the blog name has changed - we have updated this regular blog to be called Be Real. On the Be Real blog you can expect healthy living topics from the front lines of parenting and family life! Enjoy!
---