Boomer Unchained: On Becoming a Snowbird
Florida: The place for temporarily transplanted Delawareans
As a southern Californian born in Los Angeles, I never understood the interest in the winter migration to Florida, until I lived in Delaware. I am not saying that the winters are severe in Delaware compared to North Dakota, Massachusetts or Maine, but they can be quite cold (30 degrees in the daytime, and even colder at night. Several times it was 7 degrees when I walked my dog in the early morning hours). The days can be windy, rainy, and snowy. Ice on the stairs and walkways is not our friend.
Now that I am of retirement age and living in coastal Delaware, I have discovered that many of my peers 'go' to Florida at some point in the winter. I use the verb 'go,' as I hardly ever hear the word 'vacation.' It's as if the mainly 60-plus-year-old folks are snow geese, each year heading south for sun and warmth, only to return home again when it is more inviting. I guess that is why you can pretty easily get into most restaurants in Lewes and Rehoboth in January and February.
This past February, I visited a long-time friend in Siesta Key, Sarasota (Florida), where she rents a two-bedroom apartment for the winter months. She has a stream of friends and family using the spare bedroom throughout the season. I got the last week of February when, luckily for me, the weather was in the delightful 80s. Even the nights were warm. Siesta Key, with its magnificent, while flat beach and turquoise Gulf of Mexico waters, has become a No. 1 destination for snowbirds, year-round retirees, and younger people either visiting parents and grandparents, or just getting away. I also hear that many people from Lewes are now in the Villages, or hanging out in Venice, which sounds like a pretty artsy place. Tampa also has been mentioned.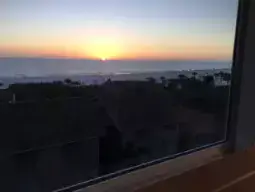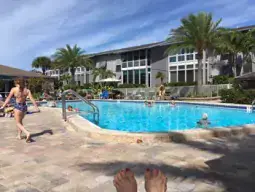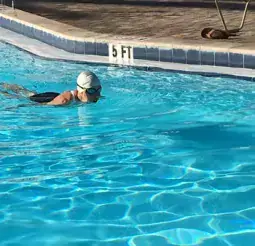 Being a person who uses Facebook, I immediately posted a picture on my page that showed the morning walkers on Siesta Key beach. I could not believe how many emails I got from friends who live in the Lewes-Rehoboth-Milton area telling me they were down there, too. One friend beats the 'rush hour' walking traffic on the beach by walking at 6 a.m. She thought we might meet up, but I had my alarm set for 7 a.m. That was as early as I was going to get up. A few of my Lewes friends missed me by a week – their week ended the day mine began. Now I know what social plans to make for next year.
Relaxing Siesta-style in Sarasota
My five-day trip turned out to be extremely relaxing, and pretty quiet considering my normal activities were not available to me. The best part was when people joined us on my friend's fifth-floor porch to watch the sun set. It was magic and everyone felt it.
I joined my friend Marian, who was down for the month from the Newark, Delaware-area, for an 8:30 a.m. swim in our development's pool. The water was invitingly warm, and the pool was empty enough for us to do some laps. Each day, we also walked the beach. I didn't go in the Gulf. I'm not sure why except to admit that I had my laptop with me and I was working on a few writing projects on the porch.
The pool was the center of our social life and we hung out there in the afternoons. By 2 p.m. all the seats and the tables were full with regulars and short-termers, visiting grandchildren and houseguests like me. I caught up on everyone's kids and grandkids, summer camps and engagements. I noticed that politics was not discussed at the pool, though some heated conversations did occur at the dinner table away from people we didn't know.
I managed to start and finish my library book Stolen Beauty by Laurie Lico Albanese, which has some pretty racy parts between artist Gustav Klimt and Viennese socialite Adele Bloch-Bauer (the woman in gold). That book, by the way, is excellent, and I was happy to have the quiet time to savor it sitting in the shade beside the pool. Normally, at home I never seem to sit down long enough to finish a book quickly. Since I'm in three book clubs, that can be problematic.
One evening, we went to the Big Water Fish Market for dinner, and I had the freshest grilled Mahi Mahi I have ever tasted. I understand the tiny place with wooden tables started as a fish market, which it still is. They added a few tables, and then a few more. My dinner was $15 and included very fresh steamed vegetables. Can you imagine?
One of my favorite nights was when two neighbors were getting ready to return home (somewhere where it is cold). We went to one of their apartments and had a 'left-overs' night to clean out everyone's refrigerator. The dining table included turkey meatballs, four lambchops, lots of veggies and salad, and roasted potatoes. There was a bit of wine in three different bottles, and some grape juice. The five of us polished off everything.
Though my trip was uneventful, I understand that the night life in Sarasota is excellent for our 'age' group, with fine dining, symphonies, operas, and theater, not to mention a lively sailing and boating community.  Itzhak Pearlman even runs a young people's music program, for which one can obtain tickets. I wasn't there long enough, and extremely happy to remain in shorts and flip flops, hair in a ponytail and makeup left in the drawer.
---