Boomer Unchained: Book Clubs Are Still Popular
With the arrival of the new comedy "Book Club" (starring baby boomers Diane Keaton, Jane Fonda, Candice Bergen and Mary Steenburgen), I thought it would be timely to write about book club membership.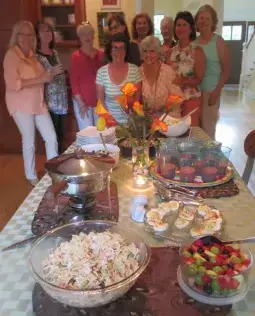 Once I watched the movie trailer, however, I realized that the groups with which I am familiar in Lewes and Rehoboth Beach are nothing like the one in that racy movie, which resembles a baby-boomer version of "Sex in the City," or the Netflix series "Grace and Frankie" with an episode added about reading Fifty Shades of Grey.
There are a number of book groups in the coastal Delaware area, maybe because reading is a popular pastime where so many educated and professional people are retiring and seeking the intellectual stimulus that only can be found when enjoying literature.
Just over a year into my official retirement (and in the pursuit of the written word), I have somehow ended up connected to FOUR book groups, with the potential of getting involved in another. Clearly, that is too many, at least for my reading speed, but it is hard to decide which to maintain and which to drop. In the meantime, I have filed away digital reams of book titles and authors, either those I've read or have been suggested to me, realizing I'll never live long enough to read everything I want to read.
Those local book clubs I know
A group that always welcomes new members, and one which I thoroughly recommend, is the one that meets monthly from September to June at Browsabout Books in Rehoboth Beach.  Local poet Sherry Chappelle led it for many years before she retired last year.  She collected book suggestions from readers at the end of each year, as well as titles she found, and then put together a plan for the next year.  She guided the group as would a conductor of an orchestra, and the results were stimulating discussions and long-time friendships made.
Kathleen Baker, a performing artist and educator from the Washington D.C.-area who has moved to Rehoboth, took over the group last year. She already has brought her love of literature and her own creative style to the group as she continues the focus on ferreting out participants' interpretations and thoughts about the books we read. A few months ago, she invited poet Meredith Davies Hadaway to read from her books. Hadaway discussed 'eco poetry,' which reflects our connection to nature. Not only did I thoroughly enjoy the gentleness, clarity, and imagery of her work, but I learned about 'eco poetry.'
I'm sure every book store (like Biblion in Lewes and Bethan Books in Bethany) has connections with local book clubs, if you are looking for one.  Churches and other religious organizations also have them.
A few weeks ago, the book group at Seaside Jewish Community in Rehoboth Beach discussed the book Russ and Daughters by Mark Russ Federman. Federman writes about his family's 'appetizing store' on the Lower East Side of New York City. For those of you who don't know (I didn't), an appetizing store can be described as a Jewish deli that is not kosher, so that it serves all kinds of goodies – meat and fish, and cheese, and desserts and breads and all kinds of things. In a true Jewish deli, you can't have dairy (milk) products if you have meat.
Federman, a third-generation owner of the business, before he turned it over to his daughter and nephew, weaved a delightful story of the immigrant Jewish family, their experiences together with the beginnings and changes of Brooklyn and the Lower East Side from the late 1800s until today. The book also includes some great recipes. So good, in fact, that I'm keeping it as part of my cookbook collection, even though most recipes I use these days come off of the Internet!
Our discussion was warm and lively as so many readers recalled their childhood days in New York City. It was an evening of laughing and reminiscing. This group meets every other month, more or less, and focuses on books that have a Jewish connection. Last year we discussed The Bridal Chair, which was about the daughter of Mark Chagall.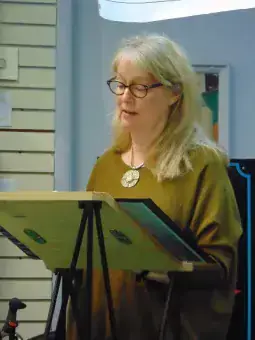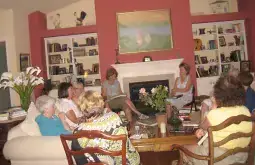 Nestled in every neighborhood
Book groups are nestled in every neighborhood. Usually, the larger the neighborhood, the more groups it has. I've been in a neighborhood group for several years now.  All 10 of us have been friends for years, and so come together to enjoy discussing books even as we make sure we stay in contact with each other and can be supportive when needed.  We also get together for fundraisers, barbecues, Lewes home tours, movies and other activities.
Libraries are a center for readers. That may be obvious, but I can't forget how controversial the proposal was for a new and huge library to replace the existing one (now the Lewes Historical Museum). Many people were concerned about the cost and pointed out that people just don't read books anymore. Well, Lewes Public Library has turned out to be a community center for the area. And yes, people are checking out book after book, attending book-related events and joining book groups.
One group attached to the Lewes Public Library is the History Book Festival monthly one where participants read books written by authors who have (or will), spoken at the annual History Book Festival held in Lewes. One thing that makes these group meetings special is that the authors participate in the discussion, either in person or by Skype. If you'd like to join a book group, I'm sure you'll no trouble finding one, that fits your interests. I have.
What do you enjoy about your Book Club?
---