Boomer Unchained: Don't Take Friendships for Granted
Friendship never to be taken for granted
A few weeks ago, I spent two days and two nights with four of my 'girlfriends' – Emily, Marjorie, Iris, and  Wendy – at a cottage near the Indian River Inlet in Delaware's Seashore State Park. It was as if we were high school friends, only I never was allowed to go away with friends in high school. We are all over 60 (that's all I am admitting to) and all live in the Rehoboth/Lewes/Milton area. We wanted to share some time together, away from our normal routines and the everyday demands of our lives.
We gathered at a round table at Hammerheads at check-in time, pleased to discover that the outdoor restaurant was open on a Tuesday afternoon in May, two weeks before the summer season was to begin. Lower Case Blues entertained us with robust drums and a finger-fluttering, twangy sound. The sun beat on our heads as we leaned across the table to share one-liners and confirm dinner arrangements.
Since it was still off season, we took advantage of the 25 percent off dinner discounts at the nearby Matt's Fish Camp the first night, and at Bluecoast Seafood Grill, the second night. Not only did we save money, but we enjoyed excellent food – crab, lobster, pastas, salmon, and mahi mahi. Oh, I can't forget the fried onion rings at Matt's Fish Camp. Between five women, those crispy, greasy delicacies were gone in about a minute.
The first morning, we walked across the Indian River Inlet bridge, stopping to take a selfie to post on Facebook, and to look out at the view. The ocean was churning with whitecaps on one side, and the bay framed by a faraway, tree-lined shoreline on the other. You get the best view in Delaware from the top of that bridge.
Despite a chilly wind that day, we carried our beach chairs, and bags of snack bars, watermelon, cheese, chips, flavored mineral water, regular water, books and Kindles, and headed for the beach.  Once settled, we posted more selfies. We also posted a photograph of our painted toenails nestled in the warm sand. Interestingly, we all had different colors. We asked Facebook friends to try and guess which toes belonged to whom.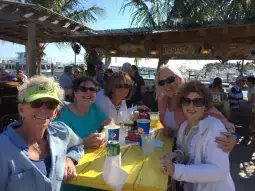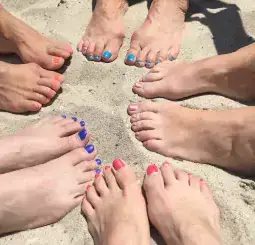 Following dinner both evenings, we played Scattergories and another word game without a name, laughing at each other's answers.  We laughed a lot, no serious conversations.  One evening we walked around Rehoboth; the next around Bethany. I ended up with a white, V-neck T-shirt with "Rebel" printed across the front from Quiet Storm. I spent way too much for it. Note to self: Never shop after consuming red wine.
Those few days underscore the importance of friendships to me, and maybe to adult women in general. Our kids are grown, and even those of us with husbands enjoy, and depend upon, the camaraderie that women provide. Who else but a woman would dig through racks of clothing with you at the Rehoboth sidewalk sale?
My four friends and I have been 'a group' for at least five years. We have met each other while living in coastal Delaware, except for Marjorie and Iris. They've known each other for 30 years, and Iris moved here shortly after Marjorie and her husband. We know we can count on each other when a crisis arises, when help or an extra hand is needed, when we want to share our joys, a walk, a play, or a chick flick. And, we are small enough of a group to be able to arrange a monthly dinner, and to get a table at a busy restaurant.
Each of us does have other close friends, I have to add, and collectively, we don't all have the same friends.  Kay, another one of my close friends I met in Lewes more than a decade ago, moved to Chicago about three years ago. We used to discuss the trials and tribulations of our children, all of whom live on the West Coast. I have missed our times together, and I have missed the closeness of another woman going through many of the same experiences as I have gone through with children and with men. Both divorced, our dating life could provide great fodder for a book, but that is another story. Last week, she visited me for a few days as part of an extended business trip to Baltimore. She is a nurse who oversees the care of many women, including women much older than I. When I mentioned that I was going to write about the importance of friendships, she pointed out that friendships among adults late in life are fleeting. She reminded me of our vulnerability, and of the transitory nature of our lives.
As we age, she reminded me, we often move away to live near our children, our brothers or sisters, to care for aging parents, or we move into assisted living facilities that are not nearby. Some of us move to a place where the weather is warmer, or to a place where our husbands or partners would rather be.  And of course, we know without verbalizing it, that age brings illness, and death.
So today, as I look at the photographs from the Indian River Inlet getaway, I remind myself to be grateful for friendships every single day, to be available when someone needs me, and to remember to smile at friends and strangers alike because we never know what pain any of us have in our hearts.
---