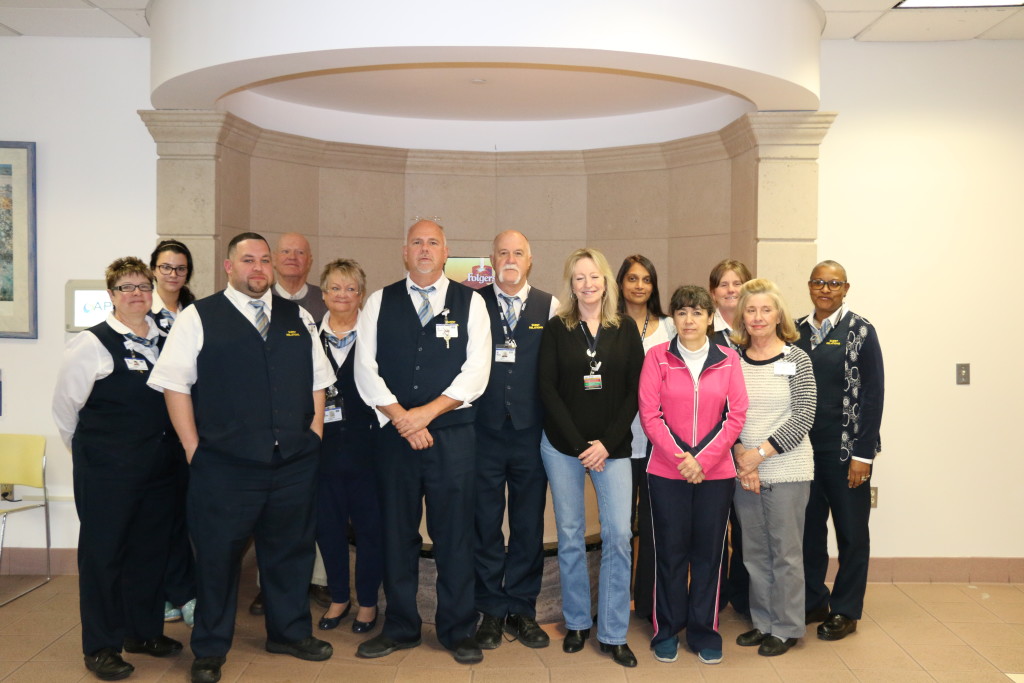 At Beebe Hospital, excellent care begins at the door, often the door of your car! Visitors to Beebe Healthcare's Lewes campus are thrilled to discover that upon entering the main campus off Savannah Road in Lewes, that there is a valet station to welcome them and to assist with parking their vehicle. What is even more amazing to visitors is when they leave the hospital; they realize that the valet service is complimentary! Many visitors who lived in larger metropolitan cities, who take advantage of the valet service, remark how they paid for parking and never had the luxury of someone greeting them, parking their car, placing a paper floor mat to avoid dirt, and helping them exit safely. This is just one of the many services that Beebe Healthcare's Guest Relations team members offer at various locations.
Currently, a team of 25 Beebe "Guest Relations" members help patients and visitors as telephone operators, valet attendants, greeters at the door, or customer service liaisons at the various health campuses. Sue Thiele, manager of Beebe's Guest Relations Department, shared that on an average day 75 vehicles are valeted at the hospital, 750 visitor badges are distributed at the West Entrance near Rite Aid, 250 visitor badges are issued at the East Entrance near the Emergency Department, and 6,500 patients a month have scheduled appointments at the Route 24 Health Campus Bookhammer Center that provides imaging and other services, and over 65,000 phone calls are answered a month. This is just a snap shot of the volume of residents and visitors who enter Beebe Healthcare's seven main locations throughout Sussex County.
One thing is consistent: the first faces of Beebe Guest Relations Team members are smiling, welcoming and ready to help make a visitor or guests experience the best while they are at Beebe. Guest relations members know that for patients and family members, coming for medical tests or procedures is already a stressful situation. Their role is to help relieve some of that stress and anxiety immediately by helping people navigate the hallways and floors.
Often, after a guest or visitor experiences the assistance of a Beebe Guest Relations Team member, they want to thank them with a monetary tip. This is not out of line when you think of our custom of tipping valets at restaurants or hotels. However, Beebe provides this service as part of the overall patient and visitor experience. Some guests and visitors are persistent and demand Guest Relations Team Members take the money. When that happens at the valet station, the attendants explain that while they are not expecting a tip, the monies offered are then donated to the Beebe Medical Foundation's "Celebrate Excellent Care" program. This program provides an avenue for grateful patients and families to say thank you by making a gift and recognizing Beebe Team members who provide excellent care. This news is also amazing to visitors and guests because for many it is the first time they realize Beebe Healthcare is a local nonprofit community healthcare system. Their tip is really a donation to help Beebe continue to serve a growing community.
Barclay "Clay" Knorr, a valet, shared a recent story about a time when he was asked to bring a parked car to a patient leaving at the Emergency Department entrance. The patient insisted on giving him a tip. He explained that he was not allowed to receive tips and she said that no one would know. He respectfully declined. He helped her with all her belongings and assisted her into her car. A few hours later, he reached into his pocket and found $2.00 that was not there before! Somehow the patient was crafty enough to keep him busy while she slipped the money into his coat pocket.
As Beebe continues to meet the needs of a growing community, its future expansion plans include transforming the Lewes Campus and facade of the hospital with one, beautiful main entrance which will welcome all guests and patients. With the demolition of the former convalescent home on the back of the main campus and the redistribution of administrative Beebe Team members to other locations, approximately 200 more parking spaces will be added to the main campus. As Beebe expands, it will once again rely on the strong support of our community to financially support this great need for not only a main entrance and more parking, but a five story wing that will include all private patient rooms, making the patient experience better. Beebe continues to remain committed to offering excellent care and excellent patient experiences.
By: Thomas J. Protack, Vice President of Development
April 3, 2016
---