Dr. Tam: Reflecting on the Holiday Season and 2021
Holidays give us all the opportunity to reflect on the passage of time and events in our lives. And as I approach my second holiday season in Sussex County and at Beebe Healthcare, I am amazed at all the memories that come to mind.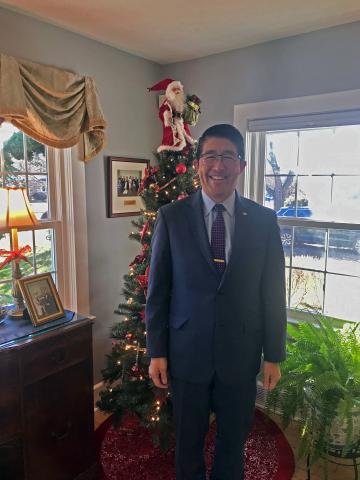 Last year, after nine months of Beebe working tirelessly to serve our community during a global 100-year pandemic, we had a vaccine that held great promise. I wrote about many things Beebe Healthcare was poised to accomplish in 2021. It seemed like we were on the final lap of the pandemic, and I was excited to move forward. I am sure many of you also felt the same way.
American novelist Michael Chabon once wrote, "Man makes a plan, and God laughs."
At the end of 2021, we find ourselves still in the grips of COVID-19 and the Delta and Omicron variants. Hospitals are full across the country and in Delaware and healthcare workers are stressed, exhausted, and stretched to the limit. A new study from the Mayo Clinic showed that many doctors and nurses are contemplating leaving healthcare in the next few years.
You would think that I would be discouraged – nope!
In fact, I am excited. Because I am doing exactly what I want to do – be a contributing member of a mission-focused team serving the community that my family lives in. Taking care of friends, neighbors, and family, and Team Beebe is also committed to serving the community as well.
It's not easy – after 22 months of living, breathing, and becoming a part of this community, there are many people I now know and count as friends. And when Beebe Emergency Departments are busy and the wait is longer than desirable, or we have to postpone a non-emergent procedure to ensure hospital capacity to care for emergencies, I now know the people who are impacted by the waits or the delays – my friends and neighbors.
And I know that every one of team members who live, play, and work in Sussex County feel some sense of failure when we cannot provide immediate care for everyone – because you are family. Others may say that they treat patients like family – for Beebe, we actually treat our families and friends and feel that responsibility every day.
But that's what also makes being a true community health system is all about. A community is made up of people who share something in common – geography or a passion. And Beebe Healthcare has been a significant member of Sussex County for 105 years.
That's why we have brought more than 75 quality physicians and providers to our community in the last 20 months. We opened the South Coastal Emergency Department and Cancer Center near Millville, expanded the Rehoboth Walk-in Care location, and added Primary Care offices throughout the county to help make it as easy as possible for the community to access care. We just opened our Beebe Primary Care Cape Henlopen at the corner of Gills Neck and Kings Highway. And we will open the new Specialty Surgical Hospital on our Rehoboth Health Campus in early summer 2022.
I think about one of our nurses, Sintia Rodriguez, who stood with me in Georgetown last year broadcasting a Facebook Live event in English and Spanish to encourage residents to come and get tested for COVID-19. And now, she has graduated from an advanced training program as a Family Nurse Practitioner and will be part of Beebe's Primary Care team in Georgetown.
I remember Beebe sponsoring COVID-19 and flu vaccination events at First State Community Agency offices in Georgetown, vaccinating residents out of the Sussex County Bookmobile under a beautiful tree in the parking lot of the Ellendale AME Church, and operating a community health fair at the Dagsboro Fire Hall.
Recently, Team Beebe unexpectedly lost one of our long-time team members, Jerry Whitcomb. Jerry was the quintessential Beebe employee and a Sussex Countian. Always smiling, asking if anyone needed help, and offering a kind word. After he passed away, many of us learned that he "quietly" donated a new bike for a child to enjoy during the annual Toys for Tots Drive. And so, this year, in memory of and inspired by Jerry, Beebe team members collected and donated 118 brand new bikes for Toys for Tots to distribute to kids in our community.
I know that I didn't write much about "healthcare" in this message. But I wanted everyone to know that the emphasis for Beebe Healthcare is on being an integral part of the Sussex County COMMUNITY. As we continue navigating the pandemic, the continuing opioid crisis, the expanding need to bring physicians and services into our growing county, and the increasing challenges of delivering equitable healthcare for our wonderfully diverse community, Beebe Healthcare stands committed more than ever to be your local, non-profit, independent community health system.
I ask that you stand with us as we look to a new year filled with the promise of increasing our ties to each other. Let's do all we can to stay healthy – get vaccinated, wash our hands, wear our masks, and take care of our bodies.
On behalf of Beebe Healthcare, thank you for your support of our team. Beebe Team Members, thank you for your hard work, dedication, and commitment. Thank you all for continuing to welcome Rebecca and I to the community. And thank you for the privilege of being your trusted friend and member of your community for the last 105 years and the bright century ahead. Stay tuned as Beebe healthcare continues to grow and evolve to serve the people of Sussex County.
Happy holidays, David.
---