Excellent knee replacement care at Beebe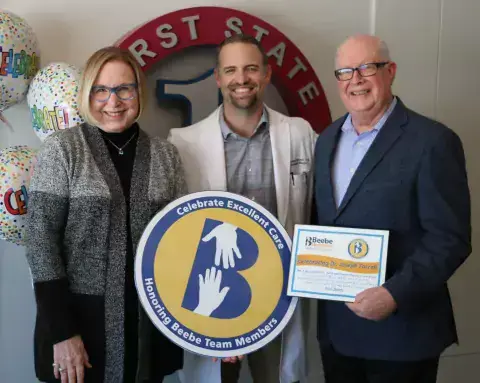 By Thomas Deets
I can remember a beautiful day in October 1969 that was a very good day to play a game of football. My fun ended with a low block to the knee, which resulted in surgery at Temple University Hospital. Twelve years later, another fun day of softball ended with a ruptured ligament in the same knee resulting in arthroscopy. Fast forward several more decades, and while there were no additional injuries, arthritis had taken a strong hold on my knee.
At this point, I presented myself to Dr. Joseph Farrell, Board Certified Orthopaedic Surgeon at Orthopaedic Associates of Southern Delaware, who performs surgeries at Beebe Healthcare. In Dr. Farrell's care, the knee was stabilized for another two years. Then it became increasingly painful and unstable. Together we made the decision to proceed with total joint replacement surgery.
I participated in a Beebe Healthcare pre-surgery information session where milestones were explained, and my questions answered. This was invaluable. I felt confident moving forward with my decision to replace my knee. On June 9, 2021, more than 50 years since the first trauma to the knee, the replacement was expertly installed by Dr. Farrell and his team.
While my surgery was the main event I focused on, I know this type of procedure doesn't happen in isolation. It takes an expert team to guide and care for a patient and their family through the entire process. I am very grateful to everyone who was a part of my care.
I am appreciative of Dr. Scott Knowlton, anesthesiologist, who clearly explained his plan and approach. My pre-op nurse, Jenna Blades, RN, provided me with a warm welcome and a warm blanket. The operating room team: Kevin McKinney, RN; Emily Collins, RN; Zach Donahue, RN; and Ashley Westmore, RNFA; and my post anesthesia nurse, Dawn Nanz, RN; everyone was completely professional, personable, and attentive throughout my experience.
Staying overnight, the dedicated 5th floor nursing staff: Evegina Khodukina, Jessica Sockriter, Brenna Johnson, Stevie Mayer and Heidi Zehr, my inpatient physical therapist, skillfully lead me in maneuvering my first hours with my brand-new knee. I have one final shoutout for the dietary staff. After so many hours of not eating, the turkey sandwich they delivered at 10 p.m. was the most welcome sight of all!
From start to finish, I experienced excellent care first-hand from Dr. Joseph Farrell and Beebe Healthcare's award winning Orthopaedics team. I am truly a very grateful patient!
In May, Dr. Farrell and many other orthopaedic surgeons will be performing operations at the brand-new Specialty Surgical Hospital on the Rehoboth Health Campus. This state-of-the-art hospital is purpose-built to transform surgical care in Sussex County, delivering the best short-stay surgical care and patient experience available.
As a community-based, not-for-profit healthcare system, Beebe Healthcare depends on the generous support of the community it serves. For more information about the Make Their Day fund, call Beebe Medical Foundation at 302-644-2900.  To celebrate the excellent care you or a loved one has received, visit Beebe Medical Foundation at beebemedicalfoundation.org. Want to share your story? Contact Amanda Neal at [email protected].
---