Exceptional care with Beebe Women's Health Team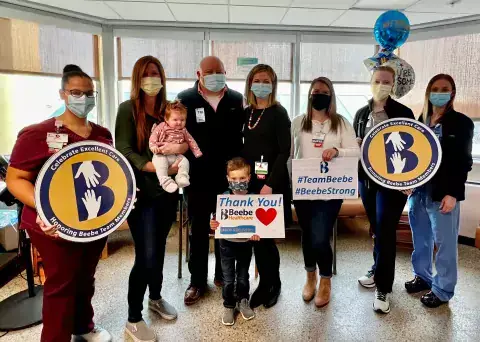 By: Stephanie Adams
My husband, Nick, and I arrived at Beebe's Margaret H. Rollins Lewes Campus at 5 a.m. on the morning of Nov. 2 for my scheduled cesarean section. We had recently moved to Lewes, and as a Gift Officer at Beebe Medical Foundation, I've had the pleasure of hearing so many positive experiences about care at Beebe, which made the decision to deliver here an easy one. Nevertheless, having had a emergency C-section with my son four years earlier at a different hospital, I was full of excitement, worry, fear and anticipation.
From the moment I checked in at the front desk everyone was warm and friendly, helping to ease my fears. "Our favorite kind of check in," shared the kind woman working at registration, "Congratulations!"
After check-in, I met my nurse Emily Hendrickson who would be with us for the day. She was friendly and confident and began the process of preparing me for surgery. Her demeanor reassured us that we were in good hands. I've never been the best with medical situations, needles, etc. Some combination of lack of sleep, dehydration and fear came over me and my heart was rushing. Emily quickly got me comfortable and set up with fluids. She then took us the staging area and the OR.
I can't recall the names of everyone present but I'll never forget their reassuring faces. In particular, the nurse anesthetist, Cheryl Cowan, CRNA, talked to me throughout the entire procedure.  She even mentioned that she is a 1916 member!
Angela Caswell-Monack, DO, Chair of Beebe's OB/GYN Department, and the team at Women's Wellness of Southern Delaware, had been my trusted team throughout pregnancy. Dr. Caswell-Monack performed my surgery flawlessly, keeping me updated throughout.
My baby, Delaney Susan Adams, arrived with a full head of strawberry blond hair! Emily again came to our aid as Delaney needed extra attention due to excess fluid in her lungs. The medical team quickly worked to stabilize Delaney, and Cheryl kept me updated until they were able to bring Delaney to me.
Throughout my recovery, the whole team made sure we were comfortable, well fed, and well taken care of. What both my husband and I found to be the most notable was how each and every nurse was personable and caring. They listened intently as we talked about our son, Liam,  who was anxious to meet his baby sister. We loved hearing about their families, too. We were always sad when each one's shift would end. Despite dealing with a pandemic -and what I understand was one of the busiest weeks of the year (can't plan when babies will make their entrance!) – the team shined. We truly appreciated their dedication, professionalism, and personal attention. Those who work in the patient care world are nothing short of amazing, inspiring, remarkable, and our heroes.
It was an absolute honor for my family to be able to recognize just some of the individuals from our care team, many pictured, and some not. As Liam shared with them when we took the photo, "Thank you for bringing my sister Delaney into the world," and we don't think we could have said it any better!
The experience made me proud to be amongst some of the best at Team Beebe, and even more proud to support the Women's Health team through our 1916 Club membership.
As a community-based, not-for-profit healthcare system, Beebe Healthcare depends on the generous support of the community it serves. To make a gift to celebrate the excellent care you or a loved one has received, please visit Beebe Medical Foundation at beebemedicalfoundation.org or call 302-644-2900. Want to share your story? Contact Amanda Neal at [email protected].
CAPTION: (l-r) Keli Lyn Jordan, CNA, Emily Hendrickson, RN (holding Delaney Adams), Nick Adams, Stephanie Adams, Liam Adams (holding THANK YOU sign), Kelsi Warrington, RN, Addie Baunchalk, RN, Stacey Churchill, RN. (absent from photo Autumn Ralph, RN, Cheryl Cowan, CRNA and Dr. Angela Caswell-Monack).
---