Exceptional care and comfort with Beebe Women's Health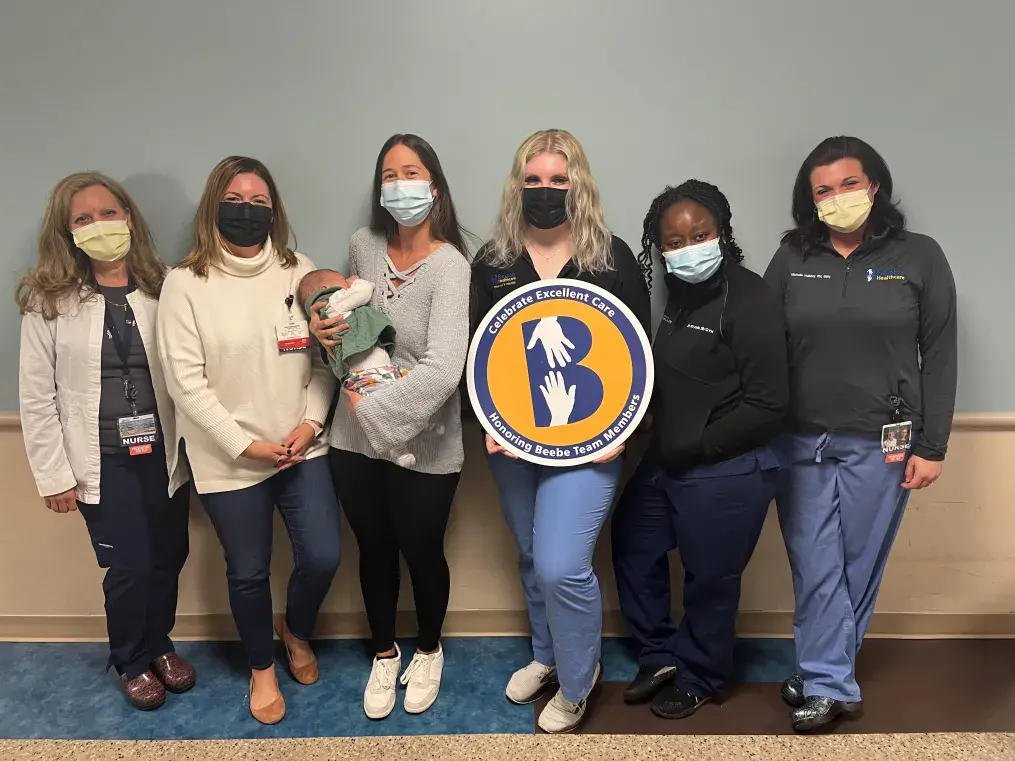 By Angela Comis
I am a registered dietitian, and years ago I did part of my internship at Beebe Healthcare. Recently, I moved to this area to be with family. Fortunately for me, I decided to deliver my baby at Beebe, and I'm so glad I did, because the experience was wonderful.
When I moved here mid-pregnancy, I was relieved to quickly get established at Beebe Women's Health. When I went into labor, I arrived at Beebe at 10:30 p.m. – and I delivered at 12:08 a.m. Alexis Stringer was my nurse for delivery and afterward. Afua O. Nyanin, MD, was my provider for the delivery. She has an energy that is very calming, reassuring and motherly. This was my first baby, and the team was comforting and supportive. I had a birth plan, and the nurses were very good about listening to me and honoring my preferences. I also had a doula with me for delivery and she was very complementary of the team at Beebe!
We stayed at Beebe for 72 hours so the baby could be monitored. Everyone was so responsive; even when I kept calling or ringing my bell for help, they provided it with a smile and never made me feel bad.
For me, breastfeeding was very important, and the lactation staff was simply amazing. They all went well beyond the help I expected to receive. I saw the lactation consultant multiple times a day to help guide me through the breastfeeding process. By comparison, the hospital where I had previously planned to deliver my daughter only allowed one visit with the lactation consultant.
Like every new mom, there were challenges I faced and times when I got discouraged. The nurses were wonderful at navigating these challenges with me. One nurse, Michelle Halliday, was a lifesaver. On the second night, my daughter wasn't sleeping at all. Michelle took her from me and held her so I could sleep for a little. Thank you, Michelle. I am still so grateful.

I can't say enough good things about the excellent care and support I received from the women's health team at Beebe. It was gratifying to bring my little one back to the team and thank them through Beebe's Celebrate Excellent Care program!
As a community-based, not-for-profit healthcare system, Beebe Healthcare depends on the generous support of the community it serves. To make a gift to celebrate the excellent care you or a loved one has received, visit Beebe Medical Foundation at beebemedicalfoundation.org or call 302-644-2900. Want to share your story? Contact Amanda Neal at [email protected].
---