A good doctor can also be a good friend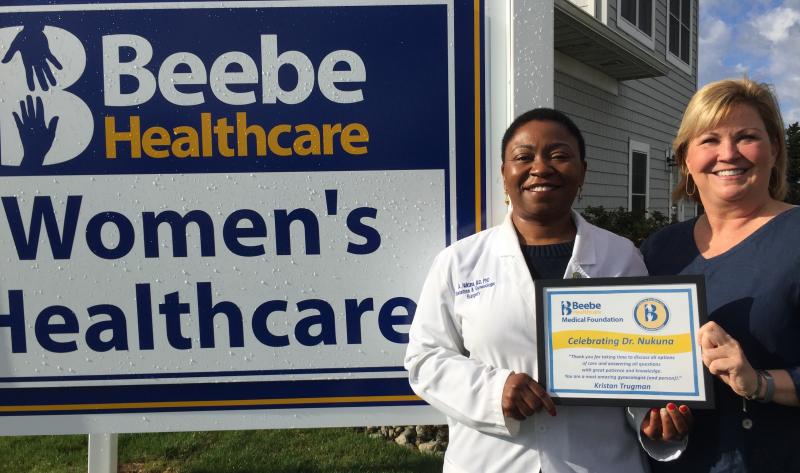 Dr. Adeline Nukuna, left, receives a Celebrate Excellent Care plaque from Kristan Trugman
in front of Beebe Women's Healthcare – Plantations, Lewes
By Mary Ellen South (June 4, 2019)
A few common answers stand out when patients are asked to describe the ideal female doctor:
• She listens
• She's empathetic
• She finds solutions
• She goes beyond the reason you came to see her
• She has great patience and knowledge.
According to a Journal of the American Medical Association Internal Medicine study, patients treated by female physicians were less likely to be readmitted to the hospital within 30 days after being discharged. The research showed these findings persisted even when adjusting for type of medical condition and severity of illness. Of course, choosing a doctor should never be solely based on gender, but on the expertise the patient is hoping to find.
When Kristan Trugman first started seeing Dr. Adeline Nukuna, an OB/GYN at Beebe Women's Healthcare – Plantations, she was elated to find a professional who had all the qualities she was looking for in a physician. "I love that Dr. Nukuna takes time to discuss various options for care, and answers all my questions with great patience and knowledge. She cares for her patients like family and takes the time to listen to concerns, and explain the pros and cons of treatment," said Kristan.
"Dr. Nukuna researches and finds resources helpful to each individual patient. She recently assisted me with options for an issue that was preventing me from sleeping, and as a result, lessening my quality of life. With her expertise and counsel, I was able to completely turn around my issue, which has allowed me to continue my active lifestyle and function productively at work. She is simply the best," said Kristan. Kristan competes in local triathlons and has run a half-marathon. She is also a swimmer, does indoor cycling and takes cardio core classes.
"Dr. Nukuna will research to see if there are more cost-saving prescriptions and also locate articles that will provide further information about your challenge," said Kristan, who is in her mid-50s and was experiencing hot flashes. Dr. Nukuna suggested trying natural remedies, but when they didn't work, she moved on to a prescription. Kristan was so appreciative that Dr. Nukuna worked with her to try different treatments and find the best solution.
"We are so fortunate to have such a dedicated and compassionate group of OB/GYN providers at Beebe Women's Healthcare – Plantations. This dedication and compassion extends to the hospital as demonstrated by the outstanding feedback we receive from patients and families on a regular basis about their care," said Bridget Buckaloo, executive director of Women's Health at Beebe Healthcare. "We have the added benefit of having an outstanding group of nurses, and when you couple this with our amazing providers, this type of teamwork is the perfect recipe for an outstanding patient experience."
As a community-based, not-for-profit healthcare system, Beebe Healthcare depends on the generous support of individuals, corporations, businesses, and private foundations. All size gifts to Beebe Healthcare are welcome and are tax-deductible as allowed by law. Please consider making a gift today and sharing your story with our community. To make your donation or to learn more about Celebrate Excellent Care, go to www.beebemedicalfoundation.org, or contact Beebe Medical Foundation at 302-644-2900 or [email protected].
---