Nursing Care Second to None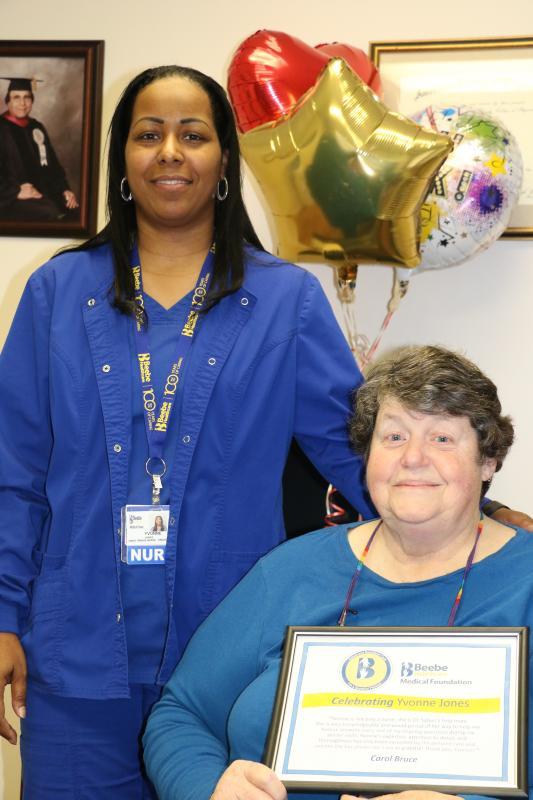 Carol Bruce's first encounter with Beebe Healthcare came over 40 years ago when her father needed medical assistance following an asthma attack. At that time she was a resident of Washington, D.C., and accustomed to a large network of doctors and medical facilities, and she recognized the difference in available doctors in Southern Delaware vs. her hometown in Washington.
About 12 years ago, Carol relocated with her family to Milton, and she recalled she was apprehensive about the available medical care. Quickly she learned about Beebe's network of physicians and began what is now a decade-plus relationship with Lewes-based Dr. Mansour Saberi and his nursing staff.
Carol was diagnosed with Graves' disease, and for more than the past four years has been the recipient of outstanding care from Yvonne Jones, Dr. Saberi's nurse. Her condition requires quarterly medical attention that involved Yvonne. As Carol states, "Yvonne is not only a nurse, she is Dr. Saberi's helpmate. She is very knowledgeable and would go out of her way to help me. Yvonne answers every one of my ongoing questions during my doctor visits."
Carol not only appreciates the care she receives from Yvonne but is also thankful for the wonderful care her son, Sean Lee, also received from Yvonne. Carol remembers, "Sean passed away seven years ago from complications of diabetes, and I will always be grateful to Yvonne for the kindness she gave to my son."
Carol's philosophy about life is "attitude and gratitude," which is why she felt it so important to Celebrate the Excellent Care she has received with a gift to the Beebe Medical Foundation to recognize Yvonne Jones. "Yvonne's expertise, attention to detail, and thoroughness has only been exceeded by the genuine care and concern she has shown me. I am so grateful! Thank you, Yvonne!"
As a community-owned, not-for-profit healthcare system, Beebe continues to depend on the generous support of individuals, corporations, businesses, and private foundations. All gifts, large or small, to Beebe Healthcare, are tax deductible and are channeled through Beebe Medical Foundation. Please consider making a gift today and share your amazing stories with our community. To make your proud personal donation or to learn more about Celebrate Excellent Care, go online to www.beebemedicalfoundation.org or contact the Beebe Medical Foundation at 302-644-2900 or write to [email protected].
Photo Caption: Carol Bruce, right, Celebrates Excellent Care with nurse Yvonne Jones.
---