Sigfredo Leo Flies from Peru to Seek Specialty Care from Beebe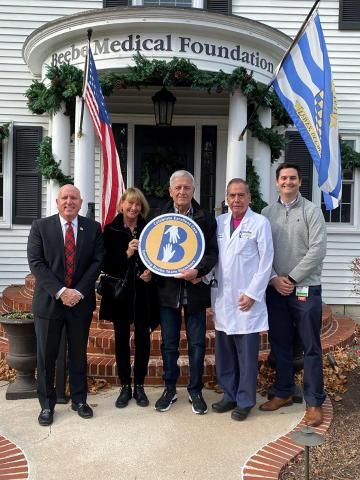 Imagine traveling nearly 3,500 miles overseas to get the best healthcare possible. When Sigfredo Leo set out to find the top doctor for his needs, this is exactly what he did. He traveled from Peru in South America all the way to the small town of Lewes, Delaware to receive treatment from Beebe surgeon, Jesus Esquivel, M.D.
In 2013, Sigfredo was diagnosed with a rare case of appendiceal cancer, which he had removed surgically by Paul Sugarbaker, MD, in Washington D.C. Eight years later, Sigfredo and his family learn that a new mass had formed. They immediately began to communicate with their doctors in Peru and were initially told that the mass was inoperable. At this time, Dr. Sugarbaker had retired, leaving Sigfredo in need of a new surgeon. He connected with a fellow Peruvian, Luis Campos, MD, from Memorial Hermann Hospital in Houston, Texas, for a second opinion.
Upon reviewing the case, Dr. Campos recommended that Sigfredo see Dr. Esquivel with Beebe Healthcare. Dr. Esquivel has extensive knowledge of surgical oncology, a specialization in gastrointestinal cancer and he had trained under Dr. Sugarbaker, who was internationally recognized for his expertise.
Knowing this, Dr. Campos believed Dr. Esquivel would be a great fit to take on Sigfredo's care. Immediately, Sigfredo contacted Dr. Esquivel.
"I did not want to waste any time, so Dr. Esquivel and I started to communicate about my situation," Sigfredo said. "From the start, I was very comfortable with Dr. Esquivel. It was clear that he had both the knowledge and skill to operate and that Beebe had the resources to operate." 
Not long after these initial communications, Sigfredo and his wife, Beatrice, were on their way to Beebe Healthcare.
"Upon arrival, I started to notice that Beebe was different from the other hospitals we have experienced in bigger cities," said Sigfredo. "We felt and appreciated the closeness of the community. During every part of my stay at Beebe, the personal care and compassion that we felt from the nurses, doctors and staff was unique." 
Even Dr. Esquivel was checking in on Sigfredo as early as 5:30 a.m. on some days. When asked about Sigfredo, Dr. Esquivel stated that "It is an honor and a privilege to be a part of Team Beebe, the team that delivered excellent care in every aspect of Mr. Leo's visits."
Since his surgery, Sigfredo is recovering well and was able to make the most of his time before his departure enjoying the local shops, restaurants, and landscapes that Sussex County has to offer. The surgery's success has him looking toward the future.
"I am now 67 years old and I want to spend my time with my kids, my grandchildren, and my wife of 48 years," said Sigfredo. "My hope is that Dr. Esquivel is able to share his knowledge with local doctors so that others who are not as fortunate as me can have this procedure done." 
"Dr. Esquivel certainly is one of our great physician champions who partners very closely with the Beebe Medical Foundation," said Tom Protack, President, Beebe Medical Foundation. "In the short time he has been with Beebe, he has referred many grateful patients who want to say thank you and support Beebe in gratitude for the excellent care they have received. I have worked with many physicians over the years, and he truly is a healer. He treats not only the patient's medical condition, but their mind, body and soul."
As a community-based, not-for-profit healthcare system, Beebe Healthcare depends on the generous support of the community it serves. To make a gift to celebrate the excellent care you or a loved one has received, visit Beebe Medical Foundation at beebemedicalfoundation.org/donate or call 302-644-2900. Want to share your story? Contact Amanda Neal at [email protected].
---