Alygia Blank: Doing What We Can to Lift Spirits
Image
This story is part of the ongoing series: Beebe Stories: In Their Own Words. Read more stories: https://www.beebehealthcare.org/health-hub/community
Alygia Blank, RT(R)(T)CMD, is a radiation therapist with the radiation oncology team at Beebe Healthcare's Tunnell Cancer Center.
"Prior to the pandemic, I would work during the week with the anticipation of the weekends where I would usually be on the road, traveling to see friends or family," Alygia recalls.
Her family was a big part of her life. Her husband, Jeremy, is a Lieutenant at Sussex Correctional Institution. Her daughter, Gabriella, is a crime analyst for Delaware State Police, and has a daughter, Ayla, 2, who Alygia loves to dote on. She also has a stepson, Maddex, who is a sophomore at Sussex Tech, and a stepdaughter, Marleigh, who is an eighth grader at Mariner Middle School. At home, she enjoys playing with their St. Bernard dog, Boston.
Image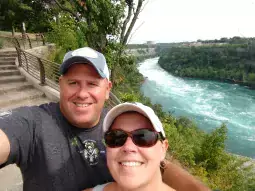 "Now, that COVID is here, we have to change how we live. My husband and I both work high-risk, essential jobs. We worry that either one of us could, at any time, bring COVID home to our family members. We talk about it a lot. We focus on take precautions – elbow bumps instead of hugs. My daughter is working full-time from home and watching my granddaughter at the same time. I have never seen her so stressed out, so I try to help when I get home from work," she said.
"We are taking steps at home to keep the kids occupied. My husband put up the volleyball net, fixed the basketball hoop, and is opening our pool. We've bought tennis balls, bubbles, sidewalk chalk, Yahtzee, coloring books, and more, in an effort to keep everyone busy and happy. We all try to stay busy and active – we would go crazy if we couldn't go outside and enjoy nature."
Alygia and her husband work to stay in touch and support other family members as well.
"My husband's father is going through a rough time. His brother was diagnosed with colon cancer just before COVID and he then went to hospice," she said. "Just recently, he passed away. My father-in-law has been really saddened that he couldn't be there to support his brother or even go see him. It is truly tragic."
Image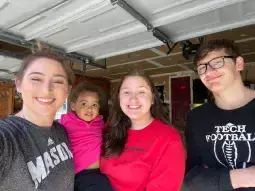 The family calls friends and neighbors to check in. They also feel grateful for all the support they have received.
"The things that have lifted our spirits is the support of Beebe by assuring we are fully informed, fully supplied with proper PPE and cleaning supplies and the constant communication and appreciation for all we do.  The community support that continues non-stop whether it be financial, a sign, a parade of lights, a meal or a simply thank you has been tremendously uplifting," she said.
"What I want our community to know is we are not in this fight alone. We appreciate the out pouring of support and continue to stay safe by staying home, wearing masks and maintain hand hygiene."
 
---