Cindy Betts: We Are Standing Together
Image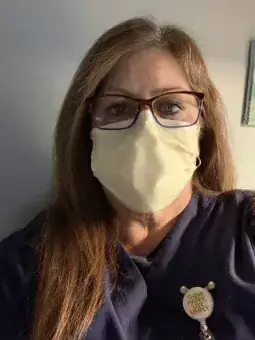 This is part of our series: Beebe Stories: In Their Own Words
Cindy Betts started her career as a certified nursing assistant, then became a licensed professional nurse, before completing her RN degree. She is now an RN, OCN with Beebe's Oncology Services team at Tunnell Cancer Center where she serves as the Thoracic Nurse Navigator.
Cindy has worked in various positions at Beebe over the years, while taking time off to pursue her education. She says, "I am so happy to be back at Beebe! This will be my home until retirement."
Prior to the pandemic, Cindy's days consisted of meeting face-to-face with patients who had been diagnosed with head, neck, or lung cancer. She would accompany them to their physician appointment and would be there to follow-up on any questions they might have. She would also help connect them with any community resources they might need.
While Cindy's goals remain the same, she is no longer meeting face-to-face with most of her patients.
"I am doing more of the initial discussions over the phone and instead of being in the room with them as myself, I am now masked and goggled. I am no longer able to offer hugs or a comforting touch," Cindy explains. "This is probably the hardest part of our new normal because touch is so important when it comes to comforting patients."
Cindy and most Beebe team members are using new technology to interact with each other as well, holding teleconferences and meeting with patients using telemedicine platforms, which are secure video links, allowing for social and physical distancing.
Image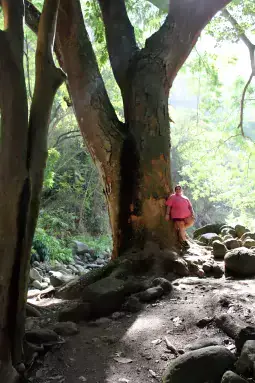 Cindy says after we get through this, she will always remember the support from the community.
"I am just overwhelmed by all the community support for Beebe," Cindy says. "Even though I am not on the frontlines treating COVID-19 patients, the support has been amazing. The way individuals and businesses have reached out to help, it is truly overwhelming. I've been thanked by strangers while out in public. We are a community and we have really come together during this troubling time."
"Our leadership is also very supportive and I feel like everyone is working to keep us safe. I feel very connected to our leaders at Beebe and I feel well-informed of everything going on. I am proud to say I am a true Sussex Countian and I appreciate how everyone is standing together to support one another."
 
Captions: Cindy, above, after work recently. At right, Cindy, on a trip pre-pandemic.
---