The Family Behind a Transformative Gift: Meet the Rollins Family
Margaret H. Rollins, known to childhood friends as Peggy Hastings, was born in 1933 in Lewes and spent her childhood and early adulthood in the community.
She attended Lewes School, and worked in the administrative offices at Beebe Hospital after school and on weekends when she was in high school. She went to Goldey-Beacom College in Wilmington and then returned to Lewes to work full time at Beebe Hospital in administration.
She and Mr. Rollins were married in Lewes in 1953. The couple had their oldest two of six children in Lewes before relocating to Wilmington, and later to Atlanta. They have many friends in Lewes and continue to return regularly to their house on Lewes Beach.
The Rollins family has supported Beebe for more than 30 years with their loyal support, and the Ma-Ran Foundation has been a continual benefactor of Beebe Healthcare since 1985. Randall Rollins is the son of O. Wayne Rollins and a nephew of John Rollins, who also has been a benefactor of Beebe.
In 2011, R. Randall Rollins and Margaret (Peggy) H. Rollins donated $3 million through their Ma-Ran Foundation toward the expansion and naming of Beebe Healthcare's Margaret H. Rollins School of Nursing, previously the Beebe School of Nursing. This project, completed in 2015, doubled the capacity of the school, and replaced the 50-year-old dormitory with a new three-story, 18,000-square-foot-building containing new, modern classrooms and clinical laboratories.
On July 21, 2017, the Beebe Medical Foundation and Beebe Healthcare announced a transformational gift of $10 million to name the Margaret H. Rollins Pavilion on the Lewes Campus. This gift was made through R. Randall Rollins and Margaret H. Rollins' Ma-Ran Foundation and represented the largest gift received by Beebe, the largest gift in Sussex County, and one of the largest gifts made in the state of Delaware.
"The Rollins family's gift is so inspirational! We are so honored that Peggy and Randall, their two daughters, Pam Rollins and Amy Rollins Kreisler, and their son, Tim Rollins, joined us today as we announce this historic gift for Beebe," said Judy L. Aliquo, CFRE, President and CEO, Beebe Medical Foundation.
"This generous investment in Beebe could not have come at a better time, as we embark on the largest expansion plan in our history. Beebe Healthcare is a very special place! Every day, we hear countless stories from our patients and their families about the excellent care received with unprecedented compassion provided by our doctors, nurses and team members. We cannot thank the Rollins family enough as well as all of the donors who so generously year after year contribute to Beebe—our local, award-winning, not-for-profit community healthcare system in Sussex County."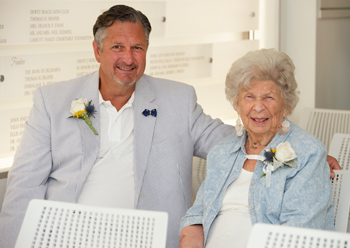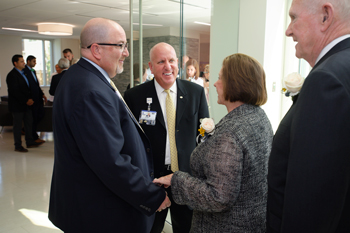 Captions –
Alex Moore and Anna Beebe Moore, grandson and daughter of the founders of Beebe, wait for the unveiling.
Rick Schaffner, Executive Vice President of Beebe Healthcare and Tom Protack, Vice President of Development for Beebe Medical Foundation talk to Margaret H. and Randall Rollins following the event.
PROJECT UPDATE [JUNE 15, 2018]: Due to anticipated changes in our community's use of healthcare facilities and services, we have re-evaluated the scope of our expansion and decided to enhance and expand access to advanced medical technologies and outpatient services rather than proceeding with the construction of additional inpatient rooms on the Lewes Campus. To learn more about these changes, and how we're continuing to make the next generation of care a reality in Sussex County, click here: https://www.nextgenerationofcare.org/2018/06/15/healthcare-is-changing-and-so-is-beebe
---