The Late Tom Draper: "Dr. Katz is my Doctor." [VIDEO]
Thomas Draper had two passions – serving the Delmarva community and his family. Draper, a Milford native, was killed while bicycling (possibly his third passion) in 2017. However, his work lives on in WBOC and in the continued passion for the community that his family displays daily.
After graduating from college, Tom moved back home to Sussex County and bought a radio station. It became WTHD – his initials as its call letters. Five years later he signed on with WAFL-FM in Milford.
His broadcasting career took a big turn in the late 1970s when the A. S. Abel Company – the then-owner of WBOC – put the station up for sale. Outbid twice but undaunted, Tom and his group of investors made a third and successful bid for WBOC-TV and its two radio stations.
Under Tom's leadership, WBOC grew by leaps and bounds. In 2003, WBOC launched a second station, UPN21, which would eventually become FOX21. It was a $13 million investment that took WBOC to the next level. And in late 2015, Tom and WBOC returned to their radio roots with the launch of 50,000-watt WBOC 102.5 FM.
At the time of his death, Tom was poised to announce the launch of Delmarva's newest television station, Telemundo Delmarva. On Sept. 3, 2017, Tom celebrated 50 years in broadcasting.
Tom's deepest love, however, belonged to his family and friends. He travelled with his partner Francesca, spending time with his grandchildren and visiting friends both near and far.
Friends and family all agree that Mr. Thomas Henry Draper was an extraordinary man. He had a profound impact on many people, including on Dr. Mayer Katz, his personal physician.
A Lasting Friendship
Meeting Dr. Katz, initially as his patient, the two men soon discovered a true friendship and a profound respect for each other. The care that Dr. Katz provided to Tom was as extraordinary as their bond as friends, leading Draper Holdings Charitable Foundation, Inc., led by Tom's children to present the Beebe Medical Foundation with a gift of $200,000 to name the vascular lab in memory of Tom Draper and in recognition of Dr. Katz.
The connection between the two ran deep, leading Tom's family to want to recognize the 28 years of commitment that Dr. Katz had to Beebe and the community.
"My dad valued not only Dr. Katz's medical help, but also his friendship," said Mariah Calagione, speaking on behalf of the family and Draper Holdings Charitable Foundation.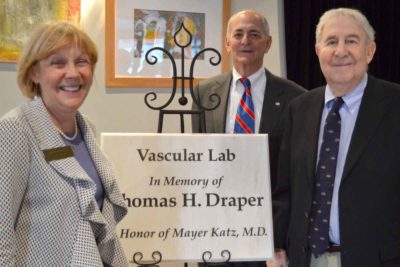 Tom was often quoted as saying, "Milford is my hospital, but Dr. Katz is my doctor."
Dr. Katz came to Beebe in 1990 to create and build the vascular program here. Over the years, he has become known as an exceptional patient advocate – giving his patients his home and mobile phone numbers and encouraging them to connect with him whenever necessary.
Dr. Katz retired from practice in April, however his legacy will continue to live on in Beebe Vascular's team, which includes Fellowship Trained vascular surgeons Dr. Sean Ryan and Dr. Carlos Neves.
"Dr. Katz has been an incredible patient advocate. He is a remarkable individual and we are proud to be able to recognize him while receiving this very generous gift from the Draper family," said Jeffrey M. Fried, President & CEO, Beebe Healthcare.
"It's nice that Tom's name and my name are together on this plaque because we enjoyed each other and we both liked to talk about our families," said Dr. Katz. "It's been 28 years here at Beebe and I often say to my wife Nancy that I have probably spent more time with the people in my office and at the hospital than with her at home. It has really been a wonderful experience and I thank you."
---