VIDEO: Thankful, Transformational, and Thanksgiving
Beebe Medical Foundation President and CEO Judy Aliquo (pictured with Vice President of Development Tom Protack and Board Chair Tommy Cooper) reminds us why it's important to be thankful for Beebe's role in advancing health and wellbeing in Sussex County.
Thanksgiving has always been one of my favorite holidays. It is a time when we gather with loved ones, just to be together. It is a time when we give thanks to all that is good in life.
I am very thankful this year for so many reasons—good health; a loving family; a new grandbaby on the way; living in this beautiful beach community; our friends, especially a group of our dearest friends since grade school; our dog, Lanie, and our granddogs; and my rewarding work at Beebe and the amazing doctors and nurses who are true heroes every day.
In this article, I would like to reflect with thanks about this year's work at the Foundation—raising funds for Beebe, our local, not-for-profit, award-winning community healthcare system. We are inspired by the generosity and are honored that donors always say, "of course, I'll support Beebe. I can't think of a better investment to make." Patients who have given a gift this year through the Celebrate Excellent Care Program have given because of deep gratitude and a wish to say thank you by giving back and honoring the doctor, nurse or team member that helped them at their time of greatest need. Gratitude for the extraordinary care received is the number one reason donors make such incredible gifts to Beebe.
We are thankful for the generosity of over 200 community members who have proudly joined the 1916 Club (those contributing $1,916 or more annually to support Beebe) and for those who have loyally supported Beebe for many, many years. We are honored that so many have recently joined our Shaw Society (our planned giving society at Beebe), some leaving a percentage of their estate, some leaving a dollar amount and some are incredibly leaving their entire estates to Beebe, all to say thank you for our team members saving and changing their lives. All of these gifts make a difference every day at Beebe.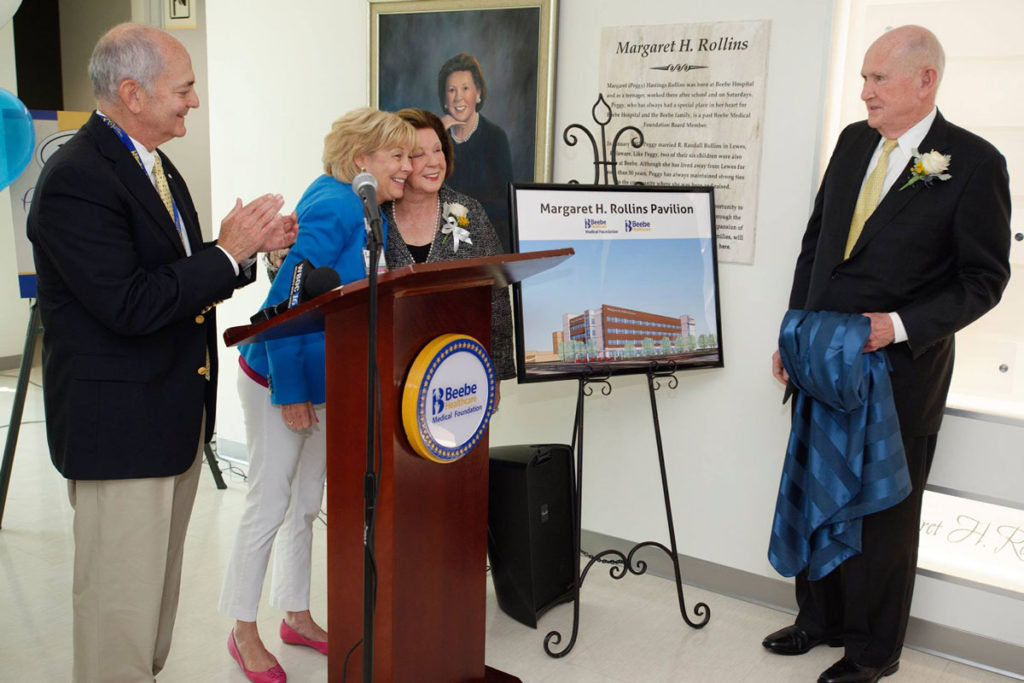 This year, the Ma-Ran Foundation, created by Peggy and Randall Rollins and their family, made a transformational gift of $10 million to Beebe Medical Foundation. This gift is the largest in Beebe Healthcare's history, the largest in Sussex County and one of the largest in the state of Delaware. We are truly thankful for the Rollins Family's investment and belief in Beebe. With this gift, we will construct the new Margaret H. Rollins Pavilion on the Lewes campus to house the new Women's and Children's Wing and to add state-of the-art private rooms for all of our patients.
Peggy, Randall, and their children are truly delightful. I am so thankful to know them. Most of the year, they live in Atlanta, but like so many they come to the beach—Lewes—to enjoy this magnificent area. Peggy and Randall grew up in the area, so they still call it home. Peggy is a Beebe baby as are three of her children. Peggy started working at Beebe as a teenager and continued working for many years. She took care of the patient billing all by hand—yes, by hand! Peggy remembered, "Beebe was a great place to work." I agree and it still is today. Randall told us that early in their married life when money was tight, "Beebe helped us when we really needed it." Peggy said Beebe would give her more hours when she needed to work. "We are pleased to be able to contribute to this wonderful institution," Peggy and Randall proudly shared about their gift.
As Beebe prepares for our largest expansion project of $180 million as we create and deliver the next generation of care, this generous gift from the Ma-Ran Foundation is truly historic. The Rollins' gift has inspired so many others to join them in proudly supporting Beebe. Subsequent to the $10 million gift, countless donors have made generous donations to Beebe to help fund the expansion plan. The transformational plan includes the Margaret H. Rollins Pavilion on the Lewes Campus, a new Specialty Surgical Hospital on the Rehoboth Campus on Route 24, and a new Emergency Department and Cancer Center in the South Coastal (Millville) area. With these four projects spread out throughout Sussex County, Beebe's goal continues to be to have facilities close to our patients so we can deliver expert care close to home. Planning sessions are in full-swing for all projects with a plan to break ground on all in about a year.
It is with great gratitude that we say thank you at this most wonderful time of the year. Your investment in Beebe is needed and is appreciated, and truly makes a difference to help us to continue to provide the best, award-winning healthcare in Sussex County. Best wishes for an amazing Thanksgiving and holiday season with your family.
Thank you!
TO MAKE A DONATION TODAY, CLICK THE "GIVE NOW" OR "MAKE A DONATION" BUTTON AT THE TOP AND BOTTOM OF THE PAGE.
All gifts, large or small, to Beebe Healthcare are tax-deductible and are channeled through Beebe Medical Foundation. If you have any questions about your gift please call (302) 644-2900 or email

[email protected]
---