1916 Club - Member Dinner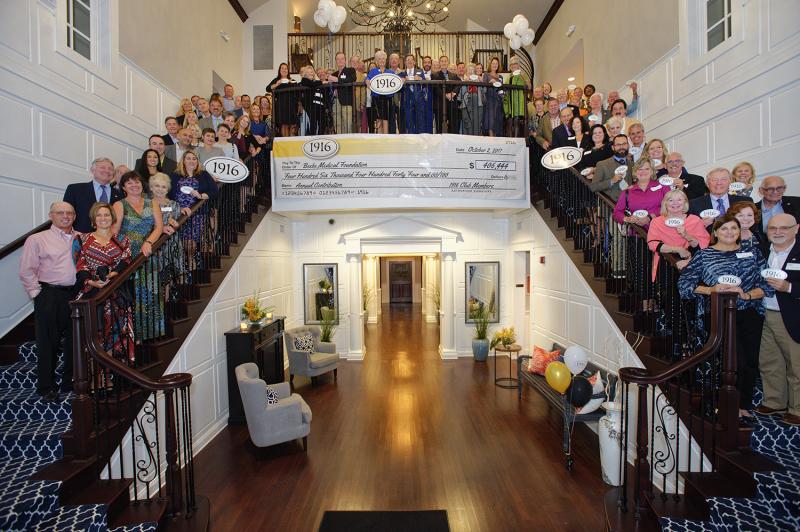 The Beebe Medical Foundation hosted its Annual 1916 Club Members Dinner at Baywood Clubhouse in early October. More than 160 guests enjoyed an elegant evening in the upper Ballroom where Jeffrey M. Fried, FACHE, president and CEO, Beebe Healthcare, and Judy L. Aliquo, president and CEO, Beebe Medical Foundation, shared news of Beebe's expansion plans for the Lewes, Rehoboth and Millville areas.
The 1916 Club is a leadership giving society that began during Beebe Healthcare's 100th Anniversary, celebrating its founding date of 1916. Members donate $1,916 or more annually to the foundation to support Beebe. In 2017, 209 members generously contributed more than $406,000.
"The 1916 Club is the backbone of our annual fund giving program," said Thomas J. Protack, vice president of development for Beebe Medical Foundation. "This is our leadership society of strong and loyal donors who exemplify the importance of investing in our community's largest asset, Beebe, our nonprofit healthcare system. Every year we gather with our 1916 Club members to share updates on our new programs and services. This year, Mr. Fried shared with our 1916 Club members details about our plans to build throughout the county, and Mrs. Aliquo talked about the importance of philanthropy for these new initiatives and thanked the 1916 Club donors for the direct impact their gifts have made in our community."
For more information about Beebe Medical Foundation's 1916 Club or to join, go to www.beebemedicalfoundation.org/1916-club/.
---