Healthy Snacks for the Beach or Pool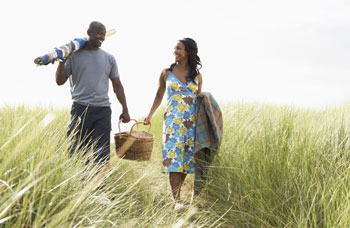 Summer and swimming make many of us hungry. The aromas from the boardwalk shops or concession stand can stimulate your appetite. Although it is fun and convenient to buy food at the beach or pool, it can be expensive. With some planning, you can spare your wallet and your waistline by packing some healthy snacks or lunch in advance of heading out the door.
An insulated cooler is necessary, however ice cubes can melt quickly. One suggestion is to freeze plastic bottles of water and individual 100 percent juice pouches. They will help keep your food cool – preventing spoiled food – and they will provide chilled drinks to stay hydrated!
You can add some frozen cold packs to insure everything stays cold and safe.
Fruits & Vegetables
Vegetables and fruit have a high water content which will help to keep you hydrated. They are also high in fiber and vitamins and low in fat. Raw vegetables (crudités) and dip are filling and nutritious.
Have the vegetables pre-washed, cut, chopped, and packed in plastic bags or lidded containers the night before. Vegetables that maintain their integrity well in the cooler include celery sticks, baby carrots, red, green, or yellow pepper strips, cherry tomatoes, broccoli and cauliflower florets, and raw slices of cucumber, zucchini, or yellow squash. Low-fat salad dressings, hummus, bean dip, non- fat French onion dip, spinach dip or Tzatziki can be packed as a dip for vegetables.
Beebe Healthcare's Ornish Lifestyle Medicine program provides great recipes that are also plant-based and healthy. Try this recipe for Ornish Sweet Pea Herb Dip: www.ornish.com/spectrum-recipes/sweet-pea-herb-dip/.
Fruits that are whole make great snacks for the beach or pool. Apples, pears, bananas, oranges, grapes, peaches, or plums should be washed before being packed in the cooler. Frozen seedless grapes are very refreshing. Make a fruit salad with kiwi, pineapple, mango, grapes, strawberries, cherries or blueberries. Pack them in individual containers with plastic spoons for an energizing snack.
Easy-to-Eat Lunches
Since bread gets soggy quickly, try using whole wheat tortillas, pitas, or flatbread for sandwiches and wraps. Make low-fat peanut or almond butter and jelly, or try a hummus and veggie wrap. Other options include beans and non- fat cheese or turkey and vegetable wraps. If you want to skip the carbs all-together, try low-sodium ham and tomatoes in a lettuce wrap.
Prepare cold burritos with wheat or corn tortillas. Mash-up canned black or pinto beans and add chopped onion, green chilies, salsa and non-fat grated cheese. Cut them in half and wrap each one in foil.
A lettuce salad or whole wheat pasta salad with varied vegetables and chickpeas or beans is a great lunch. Pack the nonfat or low fat salad dressing in a separate plastic container. Make extra skinless chicken breasts on the grill the night before and eat them at the beach out of the cooler.
Seaside & Poolside Snacks
Beach or pool snacks help you to refuel and hydrate. Individual servings discourage over eating and reduce the chance of getting sand in your food. Try to avoid salty snacks which can contribute to dehydration. Non-fat or low-fat string cheese, cheese cubes, or cheese rounds are tasty snacks and provide protein.
Here are a few more snack ideas to try this summer:
Hard-boiled eggs or egg whites
brown rice cakes
yogurt (try freezing it the night before!)
nonfat pudding cups
individual cereal boxes (Grape Nuts or whole grain Cheerios)
baked tortillas chips and salsa
unsalted, roasted edamame or chickpeas
unsalted roasted nuts or trail mix
unsalted homemade popcorn
unsalted whole grain pretzels.
Packing healthy food for the beach and pool will keep everyone satisfied, will provide energy, and will contribute to a fun day. Don't forget the hand wipes and sun screen!
---