In Lewes, Beebe Plans for the Future with Patients in Mind [VIDEO]
The historical significance of the Lewes campus – founded in 1916 by physician brothers Dr. James Beebe and Dr. Richard C. Beebe – is not lost on anyone, including the leaders of Beebe Healthcare today.
When it came time to plan for expansion of services, the leaders agreed – Lewes needed to remain the heart of the health system.
Last year, Beebe leaders announced plans for a $180 million expansion, which will include a four-story patient tower on the Lewes campus to be named the Margaret H. Rollins Pavilion. This addition, planned for the corner of Savannah Road and Fourth Street, will allow Beebe to provide the best care with patients in mind.
"We hear feedback from our patients and our community and we listen," said Rick Schaffner, Executive Vice President and Chief Operating Officer. "That's why we are planning to create all private rooms during the expansion project."
The second floor of the new building will include a dedicated labor and delivery wing on the second floor to serve the growing population of young families.
"Our community is an attractive place to live and keeps growing. Beebe remains committed to expanding with it and to meeting the healthcare needs of the people who live in and visit the area," said Jeffrey M. Fried, FACHE, President and CEO of Beebe Healthcare. "As we acquire the latest technology and equipment, hire more physicians and improve our systems, patient and physician demand for Beebe services has increased.
"We think our plan is an innovative response to growth of the population, to expectations of healthcare customers for excellent service provided in convenient locations, and the insurance companies' requirements that we be as efficient and cost-effective as possible. We're very excited to share our vision for healthcare services with everyone today," Mr. Fried said.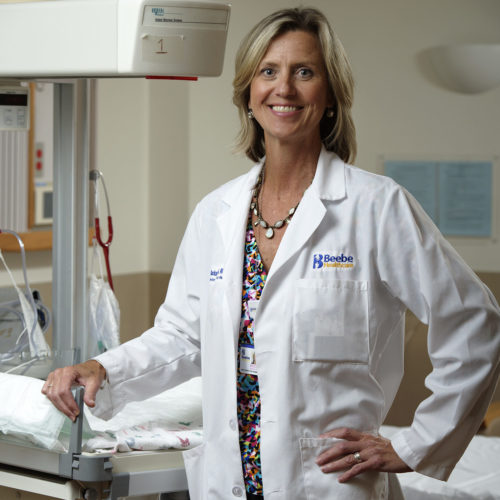 Beebe Women's and Children's Health Executive Director Bridget Buckaloo, MSN, RNC-OB (pictured), is proud to announce that Highmark Blue Cross Blue Shield Delaware has recognized Beebe Healthcare as a Blue Distinction® Center for Maternity Care.
Blue Distinction Centers are nationally designated hospitals that demonstrate expertise in delivering improved patient safety and better health outcomes, based on measures that were developed with input from the medical community.
Beebe is Baby-Friendly
Beebe is proud to have earned the designation as a Baby-Friendly™ Hospital, reflecting its commitment to the optimal level of care for infant feeding and mother-and-infant bonding. Beebe Healthcare is the first organization in Delaware to earn this international designation, launched as part of the Baby-Friendly Hospital Initiative (BFHI) in 1991 by the World Health Organization and the United Nations Children's Fund (UNICEF).
Safe Sleep Certification
Beebe Healthcare has been recognized by the National Safe Sleep Hospital Certification Program as a "Gold Safe Sleep Champion," the highest designation, for its commitment to best practices and education on infant safe sleep.
The National Safe Sleep Hospital Certification Program was created by Cribs for Kids®, a Pittsburgh-based organization dedicated to preventing infant, sleep-related deaths due to accidental suffocation. Beebe Healthcare, a Cribs for Kids® partner, also has been recognized for following the safe sleep guidelines recommended by the American Academy of Pediatrics (AAP), and for providing training programs for parents, staff and the community.
Neonatal Nurse Practitioners
Women's Health at Beebe provides advanced care for babies 24 hours a day, seven days a week. Our Neonatal Nurse Practitioners have advanced education and certification in diagnosing and treating illnesses and clinical expertise in neonatal and newborn care. During your birthing experience at Beebe Healthcare, a pediatrician, nursing team, and neonatal nurse practitioners will care for your baby following delivery. They will provide immediate medical care and stabilization for sick newborns.
PROJECT UPDATE [JUNE 15, 2018]: Due to anticipated changes in our community's use of healthcare facilities and services, we have re-evaluated the scope of our expansion and decided to enhance and expand access to advanced medical technologies and outpatient services rather than proceeding with the construction of additional inpatient rooms on the Lewes Campus.
---