Lifting Our Spirits With Coloring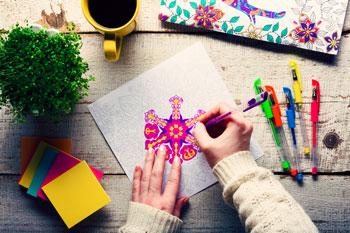 Whether walking, standing or sitting on the beach, many of us have experienced the indescribable joy that comes from watching a magnificent sunset spread vibrant colors across the sky and onto the water of the Delaware Bay or Atlantic Ocean.
Coloring, that pastime we identify with children, can give us a similar feeling of emotional wellbeing that a dramatic sunset can evoke. Coloring is a way to relax so that we can better cope with the stresses and pressures of our daily lives. Coloring also has shown positive results in helping cancer patients to better face their diagnosis and the treatment regimens they undergo. It has been used in art therapy programs, which reportedly have helped reduce anxiety and even pain in those with chronic diseases.
As a creative activity, coloring helps us enter into our right brain, which houses our creativity. This allows us to leave our left brain, which carries the worry of our life problems. Coloring brings our focus to colors, textures and shapes as we build something new and beautiful. Our efforts bring our minds to a sense of peacefulness that was not there before. We feel good about our work, even when we are coloring in a coloring book. That's because the pictures and designs come to life with our colors – we transform the black and white on the page into the color of our lives. Through coloring, we leave the world of our illness, with its uncertainty, to a place of peace we have created with our picture.
Another important benefit of coloring can be described as 'a gift.' Not only do we find ourselves relaxing and enjoying the act of coloring, but we also find that we can be so pleased with what we have created that emotionally we feel the same way we would if we had received a gift. We can hold our work in our hands, and feel a sense of joy and of accomplishment. We can put it aside and when we look at it days later, we can remember our enjoyment of the coloring process and of completing this new piece of art. Recently, I had a friend whose husband framed a few of her pieces and displayed them in their home. This act of love on her husband's part improved her sense of wellbeing and brought the two of them closer.
It's easy to get started coloring. It has become such a popular pastime for adults that coloring books specifically for adults are easy to find, whether online, or in bookstores, craft stores and pharmacies. The variety available means that there is something for everyone. There are even coloring books for stress relief that feature intricate designs. Crayons, pastels and colored pencils also are easy to find. Here are some tips if you would like to get started.
There are no rules. You can be as creative as you want and use any colors that you want; and you don't have to fill in all the spaces in the coloring book.
Check out some coloring books and find one or two that you would like to start with.
Decide which medium you would like to use – crayons, pencils, markets or even watercolor pencils, for example. Each will give you a different effect.
Choose your color palette. You can begin with some basic colors and eventually move into more expanded hues and tones.
Enjoy!
For more information on Ornish Lifestyle Medicine, call (302) 645-3514 or go online to /ornish
---