Spring's burst of life teases us with promises of summer
In late March, as the morning sunlight peered through my shades and cardinals and robins called to their mates outside, I felt spring. I truly felt an energy that had not been around since, well, July 4th fireworks.
I quickly got out of bed, slipped on sweats and a jacket, and hurried outside to find that my dormant tulip magnolia tree had exploded into vibrant, dark pink flowers.  It took my breath away.
Spring Has Arrived, or Has it?
The tulip magnolia is one of the first trees to bloom, a skeleton dotted with pink and no leaves to be seen. The daffodils were up, too, and my roses were leafing out, showing signs of new life, and giving me hope of warmer days to come. The energy of early spring was all around. Robins chirped and so did a cardinal. A flock of brewer's black birds scattered across the lawn.  It inspired me to take on a decorating project and spruce up my bathroom.
Spring in Delaware this year has not been easy. Mother Nature has teased us with the promise of greening lawns, brisk mornings and sunny days, only to frustrate us instead with darkened skies and temperatures swinging down into the 40s. By the first week of April, winds had whipped waves that carried some of our beach away, and threatened snow, and eventually forced Lewes to postpone an annual Tulip Festival event on Saturday.
What happened? Four Nor'easters in a row? It's the first week of April and I wore snow boots to my exercise class this morning? But the cardinal is singing outside, hoping to find his wife so that they can settle down with a new family in a tree yet to bear leaves.
My tulip magnolia is shivering, and its pink flower pedals are blowing about the driveway, dislodged before they fully opened. It, too, is wondering what happened to this year's early spring.
My friend Marjorie called me to say all she wants to do is to get out into her garden and dig, and watch the plants grow and flower and thrive. Instead, because of the cold, she bought winter pansies to color her garden.  Her husband braved the golf course yesterday, bundled up in a sweater and jacket and still froze. The summer senior golf league already had begun, despite the weather.
Peter and I had planned to go to East Coast Garden Center's Spring Festival. It certainly doesn't feel like the kind of weather to celebrate spring as I stare at the thermometer which reads 45 degrees. However, Peter, also inspired by the energy of spring, has landscaping ideas in mind. I'm torn between visiting green houses to see thriving plants with him, or to stay home with a good book and some classical music.
Decorating Instead of Gardening
As I mentioned, the early thoughts of spring inspired me to take on a decorating project. I recently finished up this spring-driven project – the updating of my master bath, which needed a fresh coat of paint and some new towels. Last week, I had headed over to the paint department at Home Depot to see what colors I might like. I discovered I wasn't spring's only target.  A row of driving lawn movers stood at the doors of the store as if announcing its time to turn our attention to our yards. Nearby were gas barbecues of several sizes and all kinds of plants spilling out of the doors of the garden department.
Home Depot, like every other home improvement store in the area (Lowes and Ace, for example), was geared up for the seasonal onslaught of contractors and home owners.
Once inside, I saw displays of garden furniture, baskets of Easter flowers, more lawnmowers and barbecues, and people pushing full shopping carts. A rolled-up carpet hanging out of cart bumped me as it and the man pushing it passed by.
"It's time to clean up," a woman waiting in front of the paint department said to me.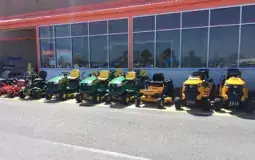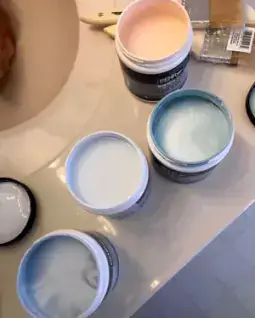 I had no idea what color I wanted. My thoughts ranged from pinks and oranges to blues and other blues. I wanted something light and ended up going home with an undisclosed number of sample paint swatches. I hate to admit it, but I went back four times that day, buying those small cans of sample paint. By that evening, my bathroom looked like a child's art project. I had brushed on five different colors, finally landing on a bold, turquoise-like blue that was one of Behr's 2018 colors. I consulted with my neighbor Bonnie, and with my friend Marjorie and her daughter Jennifer. In the end, all three of them supported my choice. The painter did a wonderful job.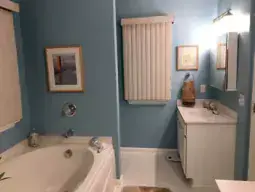 Despite today's chilly temperatures and overcast skies, I feel smitten by spring. My bathroom looks fantastic, and I know, deep down, that it's going to be warmer soon. I am making plans to get my bicycle out and to brush off my kayak. It won't be long now before I turn off the heat and turn on the air conditioning, put away winter sweaters, and pull out the t-shirts and shorts.
What are your favorite ways to welcome spring?
---