Healing Mr. Valentine's Heart
Beebe Electrophysiology Team Completes Second Micra Pacemaker Procedure in State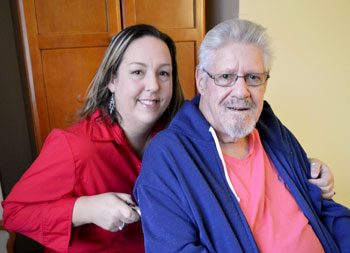 H. Richard Valentine reclines comfortably, his granddaughter Tera Fazal sitting next to him. Only a week prior, however, Mr. Valentine was in much different surroundings at Beebe's Medical Center in Lewes as he prepared to undergo a pacemaker implant procedure.
"Mr. Valentine was a special circumstance. He came into Beebe because he had fallen and injured his shoulder. While he was in the Emergency Department, we discovered he had an extremely slow heart rate, which had resulted in his fall and significant injury. We worked with him and his family to evaluate which pacemaker would be best in his specific case," said Malick Islam, MD, electrophysiologist with Delaware Cardiovascular Associates.
It turned out Mr. Valentine, who lives in Selbyville, was the perfect candidate for the Micra™, making him the second patient in the state to receive this device. He is the first patient at Beebe.
"In ways, it is a miracle that we have this device and procedure available here," Mr. Valentine said. "I feel very fortunate. I was awake for the entire procedure and could see the progress, but there was very little pain. I expected it to be a difficult recovery, but looking back now, I would rather have this procedure again than go to the dentist!"
The Micra™, developed by Medtronic, is the world's smallest pacemaker. It is delivered to the right ventricle of the heart where it is implanted and helps pace the heart. It is a lead-less device, which means it doesn't have any wires. The entire pacing system is implanted in the heart, with no wires running to a battery unit implanted under the skin, as is the case with traditional pacing systems. This translates to a quicker recovery time and less risk to the patient.
This procedure is a good fit for those who are older, who may be frailer, and who have a higher infection risk, said Dr. Islam, who noted that not every patient who needs a pacemaker is a good candidate for the Micra™.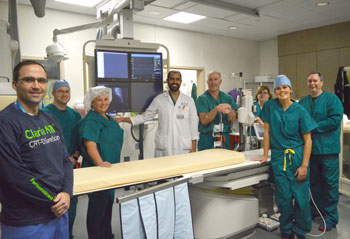 According to Medtronic, the Micra™ has a 99 percent success rate, as determined in a 726-patient global clinical trial. It also has 48 percent fewer major complications than traditional pacemakers, reports Medtronic.
"It's a quicker procedure. All told, we were done in about 30 minutes," Dr. Islam said. "With a normal pacemaker procedure, the patient would have six weeks of restrictions on weight lifting and arm movements. With this Micra pacemaker, they only have one week of restriction on heavy lifting. After the week is up full activity can be resumed."
Mr. Valentine and his family are thrilled with the results and the fact that he is bouncing back so quickly following the procedure.
"He may not realize it yet, but his color is better, he has more pep, and he is talking and interacting more already," said Mr. Valentine's granddaughter Tera.
"We are proud to be able to offer advanced procedures like this one to the community," said Amy Bradshaw, RT(R)(CV), a team member in Beebe's Electrophysiology (EP) Lab. "Here at Beebe we are a community and especially in the EP and Cath Labs, we think of ourselves as family and our patients are part of that family."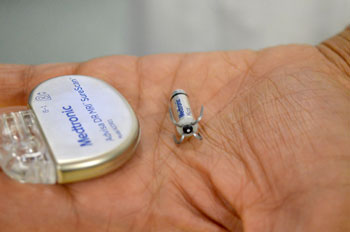 February is American Heart Month, which is a great time to talk to your primary care provider about any heart health concerns you might have.
Visit Cardiac & Vascular Services page to learn more. If you have questions about your heart health or whether you need a cardiologist, call Carrie Snyder, Cardiac & Vascular Nurse Navigator at (844) 316-3334.
Captions - from top:
Tera Fazal and H Richard Valentine: Tera Fazal and her grandfather H. Richard Valentine enjoy time together following Mr. Valentine's pacemaker procedure. Tera notes that Richard has better color and is more talkative these days.
EP team: Shown (left to right) are Calvin Landis, Medtronic; Dave Keegan, Medtronic; Amy Bradshaw, RT(R)(CV), Beebe Cardiac & Vascular Services; Dr. Malick Islam, electrophysiologist; Mike Mendes, Medtronic; Dana Schwartz, RT(R)(CV), Beebe; Ravin Davidson, RT(R); and Curt Trapp, RN.
Regular pacemaker and micra: Dr. Malick Islam holds in his hand a regular-sized pacemaker, left, and the Micra™ pacemaker to show the size difference.
---