Table Matters: The Benefits of a Dinner Table Ritual
Image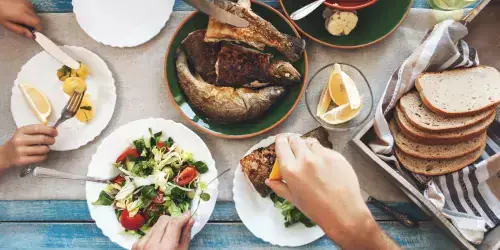 When it comes to setting a healthy example, it can be as simple as taking a seat at the table.
It's important to eat a diet of nutrient-dense foods, including fresh fruits and vegetables. But it's just as important to set a healthy example for your family at home and in your work. Taking time for self-care is important—but taking care of yourself is the best thing you can do for your family.
Dinner Time = Family Time
Many families have two working adults, which leaves little time to get a healthy dinner on the table. However, a family meal is about more than sharing food—it also provides a space for connection.
Having the entire family unit sit down together is of great benefit, not only to children, but to parents as well. It is a great time to catch up and reflect on the day. Sitting together at the dinner table can also reinforce positive behaviors. Consider these rules for your family table:
Set the table with silverware and napkins to establish a ritual of eating together.
Make dinner a device-free zone. Put away phones and turn off television.
Enjoy each bite. Put your fork down and chew between bites. Eating slowly helps you realize when you're full.
Engage in conversation. Don't just stop after "how was your day." Delve into deeper discussions with your family.
Seeing your family physician on a regular basis should also be a healthy habit—find a doctor at Beebe today.
---