Whole Body Health for All Ages
Image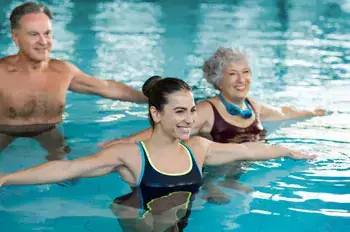 Year after year our bodies change—and consequently, the food we choose, how much we move and exercise our bodies, and the medical counsel we seek can all have a significant impact on these transitions. That's why it's so important to tune into your body, notice any shifts and consider what it requires during different stages of life.
Here are some helpful ways to keep yourself happy and healthy no matter how many candles are on top of your birthday cake.
Food Road Map
What you eat has a significant impact on how you feel and how your body refuels. The older you get, the more your food choices begin to stack up. Keep your heart and arteries healthy, help prevent high cholesterol and high blood pressure, which can lead to cardiovascular disease, reduce pain, and fight diabetes and overall inflammation by eating a nutritious and balanced diet full of vegetables, fruits, protein, and healthy fats. (Search "Recipes" for some healthy recipe options!)
Did you know dehydration can lead to memory issues and constipation? Dehydration can become more dangerous as we age. We may forget to drink enough water during the busy days. The recommended amount is eight to 12 glasses of water a day. Try setting aside a container like a travel water bottle or pitcher—with ounces measured on the outside—so you can keep track of how much water you drink each day.
Exercise Examples
As you age, your heart rate begins to slow down and your joints may start to ache more. To keep your heart healthy and your bones strong, you want to incorporate physical activity that not only gets your heart rate up, but that also helps improve strength and flexibility. This includes incorporating activities such as walking, swimming, gardening, stretching and weight-bearing exercises into your daily routine. Pick something you like or find an exercise partner to help motivate yourself to stick with it! If you can't commit to something every day, aim for three to five days a week and focus on increasing movement in your daily routine.
Doctor's Visits
Annual check-ups are a must during any stage of life. However, they prove especially helpful as we get older as the primary way we can prevent health issues from sneaking up on us. Take the time to select a physician or provider that you trust and can form a partnership with—this will make your visits all around more enjoyable and beneficial to your health. Once you complete a wellness visit, your provider will be able to determine how often you need to schedule appointments in the future. If all is well, they will often suggest an annual routine check-up or physical.
Community Focus
Interacting with others and cultivating relationships is a great way to boost your mood and your overall health. Consider volunteering with friends, joining a church or other spiritual place of worship, or finding others with similar hobbies. In the times of COVID-19, you can still interact in useful ways by collecting items to donate or doing safe, socially distanced outdoor gatherings.
Overall health doesn't have to be a chore. It's all about balance and setting manageable expectations for yourself. Start by breaking up health goals into the four categories above to help you prioritize where to begin. Implementing healthy habits today will help you to feel great inside and out as you continue each year.
We want to help you navigate your overall health through all stages of life —that starts with routine visits with your primary care provider. Don't have a PCP? Connect with one of ours today.
Due to COVID-19, many in-person education sessions and group support meetings have been postponed. Some are now offering virtual visits via telemedicine. Talk to your primary care provider to see what might be available. If you do not have a provider and are concerned you might have COVID-19, call the Beebe Coronavirus Screening Line: 302-645-3200.
If you have more than 100 pounds to lose and are interested in bariatric surgery, the Bariatric Wellness Coordinator can help. Fill out the form here. Call our bariatric surgery specialists at 302-703-3630. Learn more: Bariatric Surgery at Beebe.
---