Beebe Healthcare Awards Heather Campbell with L.O.V.E. Letter Award
Beebe Healthcare is proud to recognize Heather Campbell, RN, as the August recipient of the Living Our Values Every Day (L.O.V.E.) Letter Award.
Heather Campbell, RN, was awarded this recognition for her exceptional dedication and compassion for one of her patients.
"In the hustle and bustle of a task-oriented world, Heather still manages to see each patient as a human being, and doesn't let the carrying out of duties and orders get in the way of her patient care," wrote Carey Murray, a fellow RN who submitted the nomination letter. "She keeps a positive spirit and always comes up with ways to really connect with her patients."
"On one particular shift, Heather helped me with a patient who was expected to pass," Carey continued. "Both of us were busy with primary care on our other patients throughout the unit, but Heather took the time with me to spend with this patient, who was alone, as his family did not come to be with him during this sad time."
"We gave the patient hand and foot massages with some calming lotion and made sure he was turned and positioned comfortably.  I am certain this patient was very appreciative of all we did for him and our presence during this difficult time," Carey wrote.
"Thank you, Heather, not only for your physical help with the shift, but mostly for your positive encouragement and caring words and emotionally caring for this patient," Carey continued. "You are truly wonderful."
Image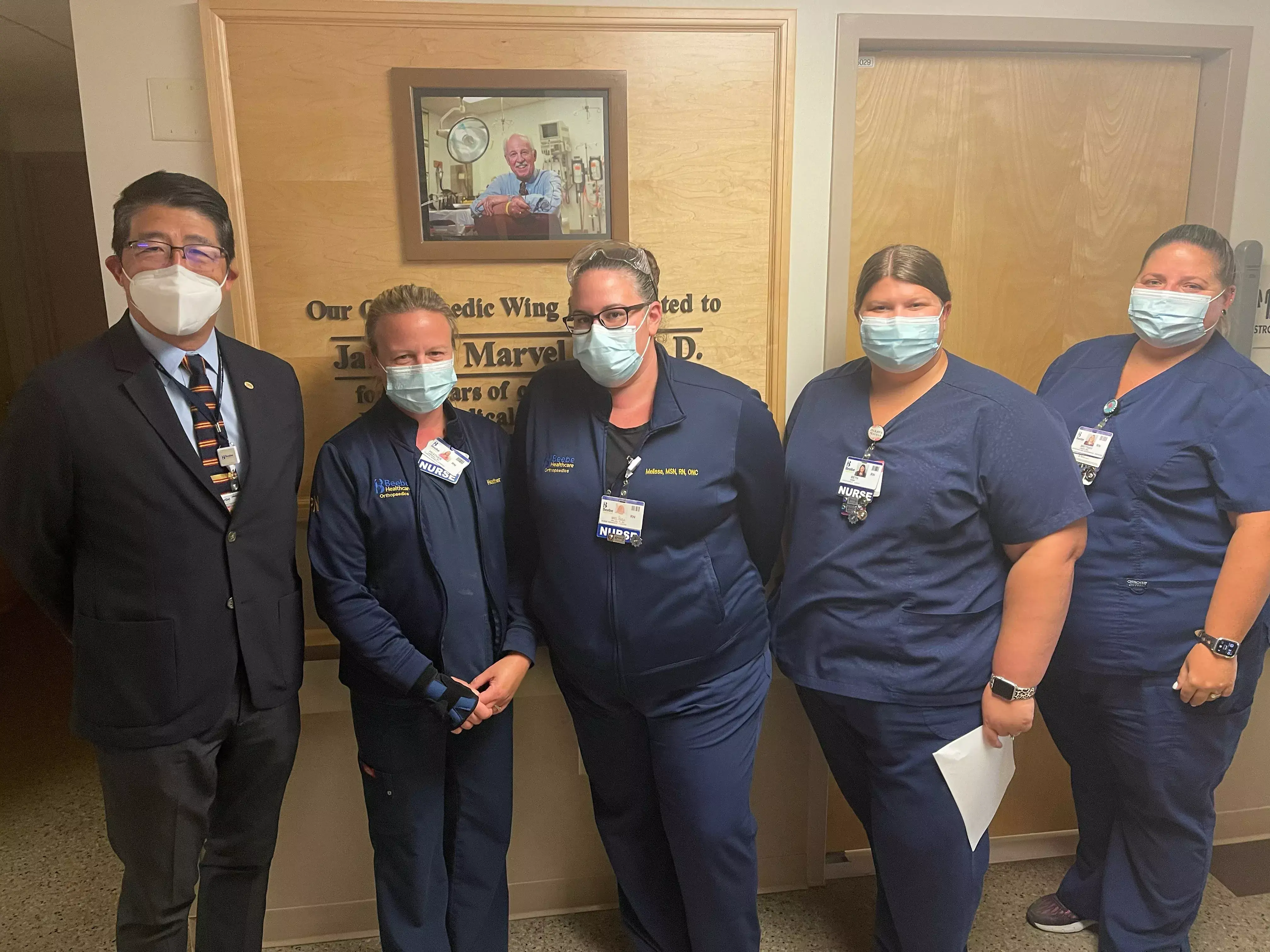 Through her efforts, Heather has demonstrated many of the Beebe values, including "build trusting relationships with compassion and kindness," and "treat each individual with respect and dignity."
Congratulations on receiving this recognition, Heather, and thank you for all you do!
Photo caption: Heather Campbell, RN, (second from left) is the recipient of Beebe's L.O.V.E. Letter Award for August for her exceptional dedication and compassion for one of her patients. Also pictured from left to right are Dr. David Tam, President & CEO of Beebe Healthcare, Melissa Heldreth, RN, Nurse Manger, Beth Goins, RN, Team Lead, and Brittany Laskey, RN, Orthopaedics Service Line Coordinator.
Beebe Healthcare's L.O.V.E. Letter Recognition Program is similar to an employee of the month program. Team members are encouraged to send L.O.V.E. notes to other team members during the course of the month. A committee then evaluates the L.O.V.E. notes and selects one to receive the monthly L.O.V.E. Letter. Winners are announced in a surprise ceremony in which the committee visits the winner in his or her department and presents the award.  Employees selected for the award receive:
$100 gift card donated by Fred and Lyndie Hertrich
Gift card to Waves Car Wash
100 points toward Beebe L.O.V.E. Notes Merchandise
100th Anniversary History Book: Two Men With a Dream: The Story of Beebe Healthcare
Letter of congratulations and personal visit from members of the executive team
Their photo added to the L.O.V.E. Letter wall plaque
Letter to team member's director and department recognition
---