Beebe Healthcare offers new digital PET/CT Technology to better serve patients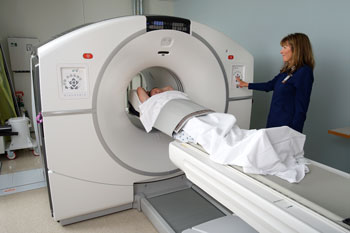 Beebe Healthcare offers one of the most advanced diagnostic tools available for cancer detection: the Discovery™ MI PET/CT imaging system from GE Healthcare. Beebe Healthcare installed the new PET/CT scanner at the Beebe Health Campus- Rehoboth Beach on Route 24 in late May.
"Beebe Healthcare is thrilled to be the first on the East Coast to offer the new Discovery™ MI PET/CT imaging system from GE Healthcare. We started the first round of trainings in June and have begun using this new technology for our patients," said Dan Mapes, Beebe Healthcare's Director of Diagnostic Services. "This new state-of-the art detection technology is great news for patients, as the new digital scanner has significantly better resolution, leading to more accurate diagnoses and disease staging."
This advanced nuclear imaging technique combines positron emission tomography (PET) and computed tomography (CT) into one machine. A PET/CT scan reveals information about both the structure and function of cells and tissues in the body during a single imaging session.
During a PET/CT scan, the patient is first injected with a glucose (sugar) solution that contains a very small amount of radioactive material. The substance is absorbed by the particular organs or tissues being examined. The patient rests on a table and slides into a large tunnel-shaped scanner. The PET/CT scanner is then able to detect damaged or cancerous cells where the glucose is being taken up (cancer cells often use more glucose than normal cells) and the rate at which the tumor is using the glucose (which can help determine the tumor grade). The procedure is painless and varies in length, depending on the part of the body that is being evaluated.
By combining information about the body's anatomy and metabolic function, a PET/CT scan provides a more detailed picture of cancerous tissues than either test does alone. The images are captured in a single scan which provides a high level of accuracy.
"Because of the superior sensitivity and resolution of the digital PET images in combination with the detailed anatomic information from CT, we are able to detect cancerous lesions earlier and with more confidence which helps the oncology team decide on the best course of treatment," said Dr. Ellen Bahtiarian, diagnostic radiologist and nuclear medicine physician at Beebe Healthcare.
In addition to providing comprehensive PET oncology analysis to monitor cancer treatments, Discovery™ MI can be used to address clinical challenges beyond oncology to include brain imaging and FDG bone scanning.
Specific advantages of the GE Healthcare's Discovery™ MI PET/CT imaging system include:
• Significantly better small lesion detectability
• Reduced time for the patient during the scan and a lower dose rate
• Technology to more accurately access treatment response and guide physician treatment planning decisions
• Up to 82 percent reduction in CT dose with ASiR-V, at the same image quality
• An extended table length allows for the new scanner to perform the scan in one session, whereas in the old scanner, if someone was above 6 ft. tall, it required a repositioning and two scans.
To learn more about Beebe Healthcare's Imaging Department,  call (302) 645-3278 to schedule an appointment today. The Discovery™ MI PET/CT imaging system is housed at the Bookhammer Outpatient Center, Beebe Health Campus, 18941 John J. Williams Highway, Rehoboth Beach, DE 19971.
Photo Caption: Pictures the new Discovery™ MI PET/CT imaging system from GE Healthcare with Tech Janine Anderson and patient.
###
Beebe Healthcare is a not-for-profit community healthcare system with a charitable mission to encourage healthy living, prevent illness, and restore optimal health for the people residing, working, or visiting in the communities we serve. It offers services throughout Southern Delaware for residents and visitors, including a 210-licensed-bed hospital, a cancer treatment center, home care services, and outpatient facilities providing walk-in care, lab, imaging, and physical rehabilitation services. For more information, please visit us online.
---