The Tunnell Cancer Center offers comprehensive cancer care services. With a dedicated staff close at hand, the center provides the most modern diagnostic and treatment technologies.
Tunnell Cancer Center works closely with you to develop a plan of care, which includes the type of treatment and the length of treatment.
The staff at Tunnell Cancer Center is dedicated to addressing all of our patients' medical and emotional needs, and our goal is for our patients to eventually return to their normal lifestyles. We work closely with other doctors who are involved in our patients' treatment. We keep in touch with referring physicians on a regular basis, keeping them informed of patient progress with complete reports of findings and recommendations of treatment.
The center is designed in a spacious, bright fashion. Families have large, comfortable waiting rooms where physicians and nurses can teach, answer questions, and help solve problems. Patients brimming with concerns about their disease and treatments will find hope and the answers to their questions.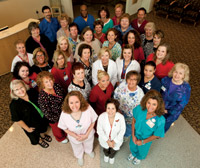 Our Support
While facing cancer is certainly a life-changing experience, we strive to support you in every way we can, so you can maintain the optimistic attitude and good emotional health that play a vital role in the effectiveness of treatment.
Learn about our support services. >
A Standard of Care
As a person diagnosed with cancer, you should expect to have:
Satisfying communication with doctors, nurses, and others treating your cancer
Doctors, nurses, and others treating your cancer, ask you about your needs for information and emotional and social support
A healthcare person or team who works with you to develop and carry out a plan that:
Links you to the information and support that you need
Coordinates your medical, emotional, and social care
Helps you to manage your illness, treatments, and health
If your doctors, nurses, or others who treat your cancer do not provide this type of care, please ask for it.
— National Coalition for Cancer Survivorship