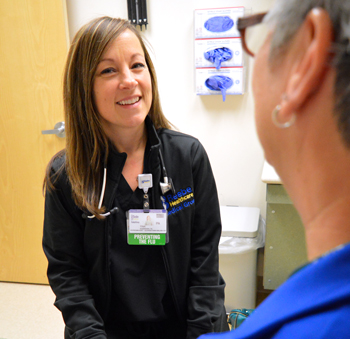 If you're sick, you'll probably tell others that you are going to see the doctor. However, once at the healthcare practice, you may, instead, see a nurse practitioner or Physician Assistant. So, what's the difference?
"Often, patients might feel slighted if they do not see a doctor. However, we find that after seeing an NP, those patients are happy with the care they received," said Bobby Gulab, MD, MBA, Senior Vice President, Beebe Medical Group, Beebe's employed physician group. "In many cases, seeing an NP or PA means you are still getting great quality of care, and often they have more availability on their schedules."
WHO ARE NPs AND PAs?
Nurse practitioners and physician assistants are Advanced Practice providers, a rapidly growing group of health professionals who are being called upon more and more as communities experience doctor shortages.
NPs and PAs often work in doctor's offices, specialty care offices, and hospitals. They focus on diagnosing and managing patient health conditions, as well as preventing disease.
WHAT'S THE DIFFERENCE BETWEEN NPs & PAs?
Both NPs and PAs can serve as primary care providers for patients. Both are nationally certified and state licensed to practice medicine. Both are able to practice both independently and
under the supervision of a physician. Both can diagnose, prescribe medications, and treat patients.
The education they receive, while similar, comes from different types of schools. PAs go to graduate school, and most PAs go on to earn a master's degree. Similarly, many nurse practitioners continue
their education to receive advanced practice degrees. Many APRNs have completed a master's or doctoral degree program with expansive clinical rotations and are board certified.
WHAT ROLE DO NPs & PAs PLAY ON YOUR HEALTH TEAM?
"Here at Beebe, we are thinking outside the box to find more direct ways to connect patients in our community with care providers. NPs and PAs are an important part of that care network, providing care in locations including our Advanced Care Clinic, Walk-In Care locations, and primary and specialty offices," said Dr. Gulab.
This makes it especially important to have nurse practitioners and PAs to fill in the gaps and serve as the primary healthcare providers for patients, which takes some of the stress off of doctors. So, next time you call your physician's office and are told the NP or PA are available to see you—don't hesitate to accept the appointment.