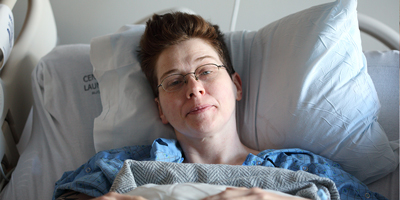 The Next Generation of Care is Here.
One of the best ways to use new technology in healthcare is to improve the patient's experience. Whether it is taking multiple images with one scan or testing for multiple characteristics following a blood draw, streamlining patient care to provide a more efficient and comfortable experience is how healthcare continues to evolve.
Vascular technology is also moving in this direction with the expanding use of hybrid operating rooms.
At Beebe Healthcare's Margaret H. Rollins Lewes Campus, a hybrid operating room has been planned, designed, constructed and is now open for our patients and our community.
---
So, how does this new state-of-the-art operating theater improve patient care?
In a hybrid OR, vascular surgeons can perform both open and minimally invasive procedures in the same visit. This prevent patients from needing to come back to the hospital for multiple visits. It also reduces their risk because they only need to have anesthesia once instead of twice.
In the hybrid OR, the surgeon, surgery team, diagnostic imaging team, and anesthesiologist all work together. If complications arise during a minimally invasive procedure, the patient does not need to be moved because everything the surgery team needs is right in the same surgery theater.
Studies have shown that patients undergoing surgery in a hybrid OR have fewer complications and have a shorter recovery time because they only need to recuperate from one procedure. They also need to stay for a shorter amount of time in the hospital following the procedure.
For the healthcare system, hybrid OR's are also more cost-effective. Because the surgery team only needs to be called one for one patient procedure, instead of possibly twice or more in the past, the healthcare system saves money. However, it is important to note that a hybrid OR does not come cheap. It is a very complicated surgical arena that involves the implementation of many specific design elements and equipment.
Beebe Medical Foundation, in partnership with community members, were able to raise money to support the design and construction of the hybrid operating room in Lewes.
---
What are the most common hybrid OR procedures?
Hybrid operating rooms are often used by vascular teams, but they can also be used for general surgery, cardiac surgery, and urologists.
Because of the large teams needed in the hybrid OR during a procedure, these operating theaters are often about 500-square-feet larger than a traditional operating room.
Here are some common procedures done in a hybrid OR:
Revascularization
Transcatheter aortic valve replacement (TAVR)
Vascular intervention
Endovascular aneurysm repair
Stent graft placement
Treatment of congenital heart disease, coronary artery disease
Transcatheter valve replacement
Laparoscopic procedures such as appendectomy