Be Real: Healthy Living with Grandparents
You've likely heard the saying, "You can't teach an old dog new tricks." While that may be cliché, as with most clichés, its roots ring true.
As we age, we often get stuck in our routine. We go to the same restaurants, visit the same friends, and take the same vacations.
There's nothing like an active, imaginative grandchild to throw a wrench into your routine!
And, by interacting with young people, you may actually live longer. Studies have shown that Americans are living longer, but they are also living more active, healthy lives. See the infographic from the National Institutes of Health shared at the bottom of this blog for more information.
Additionally, other studies have found older adults who interact regularly with grandchildren or other young people, live a happier, healthier (more active) life. See the Cleveland Clinic article at the bottom under Resources.
While being a grandparent who is also the primary caregiver for a grandchild has been shown to increase stress and have negative impacts on older adults; serving as an occasional babysitter or simply having an active role in the daily life of grandchildren has been shown to have huge benefits!
Tag, You're It
For the past six years, my husband, our son (now 6), and our daughter (3), have lived with my parents for at least six months of the year. The amount of time they've spent with us has varied from year to year. Some years they travel more, other years they have stayed in the area longer if the weather has been nice. But, for the most part, we have been one family unit – all six of us.
From our experience, I can tell you, it's an interesting dynamic. Some good. Some not so good.
Once you are a parent, you are always a parent. It's hard to turn that nozzle off. And, as a child now raising her own children, it can be hard to have a constructive conversation with the people who raised you – especially when you disagree.
However, when it comes to the grandchildren and the interactions they are able to have being in regular close proximity to the grandparents, it is truly incredible. I have seen my children develop this friendship with my parents – one that oftentimes seems to have its own secret language. At the same time, I have seen my parents running and laughing and playing with my kids – activities that definitely keep them young.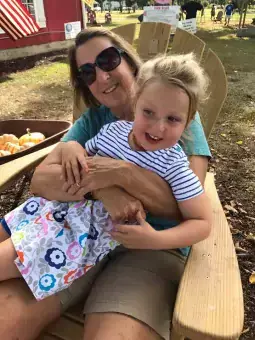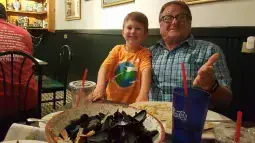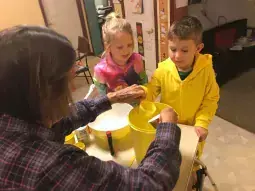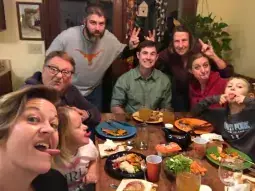 Modeling Healthy Behaviors
I was never able to have much of a relationship with my grandparents. And, it is something I have often missed and wondered about. It makes me happy knowing that my kids will have all these special memories of the fun they had with their grandparents.
While my parents are definitely not as strict with my kids as they were with me, I have noticed that the same healthy behaviors they instilled in me are now also being instilled in my kids.
When I was growing up, we lived on a farm. Eating fruits and vegetables – many that we grew ourselves – was the norm. And, I have enjoyed passing on those traditions.
In the summers, my mom would be in the garden and my sisters and I would be swimming in the pool. She would pick fresh, ripe tomatoes, and toss them into the pool. We would scurry to grab them and munch on them like hungry little otters.
This summer, we did something similar for my kids – both with tomatoes and with small cucumbers. They thought it was a riot.
Passing on those traditions is a great way for grandparents to have a hand in the future generation. It provides them with a full heart and all the running keeps them more active than they may have been if they weren't around the kids as much.
What are your favorite family traditions passed down by grandparents or parents? Share with us in the comments!
*You may have noticed the blog name has changed - we have updated this regular blog to be called Be Real. On the Be Real blog you can expect healthy living topics from the front lines of parenting and family life! Enjoy!
Resources
Infographic:
Living longer. Living healthier? Check out this #NIH infographic with facts and tips for better #aging: https://go.usa.gov/xnZda
Cleveland Clinic Article:
https://newsroom.clevelandclinic.org/2017/09/07/study-grandparents-who-…
---