Boomer Unchained: The Dogs of Our Lives
My life is going to the dogs, and I'm OK with it.
I talk baby-talk to my dog King. I admit it. I don't know why, but I've noticed I'm not the only one who does it. When we walk down Second Street in Lewes, the faces of women approaching us break into smiles as they raise their voices an octave and say such phrases as, "He is so cute," "What's his name?" and "Is it okay if I pet him?"
Now, considering King is an 87-pound Akita mix, that's saying a lot. Though quite fluffy with a thick, red, and beautiful coat, he has the pointy ears and wolf-like appearance that many identify with a man-eating guard dog. I think the warm response he gets from strangers makes me think about the effect dogs have on us. Though many people either don't like dogs or are afraid of them, a huge contingency don't want to live without them. I asked some 'over 60' dog owners I know locally to share some thoughts with me so that I could try and understand this person-dog relationship.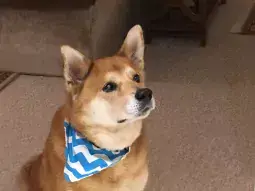 My friend Wendy, who lives in Independence, also uses a mommy voice with her Springer spaniel Grayson. She says dogs are like children who need lots of care and attention. The love she gives Grayson fills her with joy. She and her partner Carolyn have had several Springers over the years, and with retirement, find more time to include a dog in their lives. I've noticed that Grayson, a young dog, has endless energy. Yet, he has been no match for Wendy and Carolyn's dog-owning experience, and primarily their patience in wanting to make the relationship work. They walk and work with him constantly. They even went through the neighborhood's red tape to build a fence around their yard so he could run, which he does daily.
When they realized he was trampling the bushes along the fence on one side of the house in hopes of getting to the neighbor's cats, instead of admonishing him, they installed an electric fence in front of the bushes. You realize that's real commitment. Now he runs back and forth on the grass and the bushes are growing just fine. His antics have brought laughter into their lives as they have found ways to outwit him. And as I see him bound out of the house on search for any sign of the cats, I can tell he hasn't figured out he has been outwitted. Maybe it's that pure innocence and trust we dog owners are drawn to. We've got someone in our home who looks at us with pure love, never suspecting we would hurt them.
Making Friends at the Beach
The beach is a place I meet dog owners. There are early morning regulars on Lewes Beach and Anne is one of them. These days, she walks Daisy and Fiona. Daisy is a shepherd mix, and Fiona is a recent Jack Russell adoptee.
"Dogs make our lives better," she answers when I ask what dogs mean to her. How? "Getting us up every morning early to walk the beach."
Really? Only a dog owner would say that.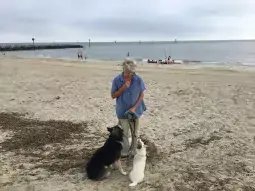 I think about King. At 12 ½, he still starts panting and grumbling at about 6:30 a.m. If I say the word "beach," just "beach," not "Do you want to do to the beach?" he whines, wags his tail and does a big circle. Even smiles. Yes. Smiles. His mood is contagious.
Anne says the same thing. A feeling of happiness and excitement fills the house. I guess it is what my friends feel when their grandchildren come over, the energy that exudes from giggles and laughs when children anticipate the beach, the pool, Jungle Jim's water slide, grandma's cookies, grandpa's hugs, I don't know.
I would not have met Anne if we had not started talking while we walked on the beach. The great thing about meeting people on the beach is that we don't talk politics or anything that would cause a disagreement. We share the joy of our dogs. I have met so many people since 2005 when I started walking my first dog Wilson, and I continue to run into the same people around Lewes and Rehoboth. One day, when I stopped to say hello to Anne, I also met Sally and Frank, who rescue and foster Jack Russell Terriers through the organization Mid-Atlantic Jack Rescue http://www.majr.org.
In fact, that is where Anne got Fiona. A few days later, I met Sally walking on Second Street. She was getting ready to say goodbye to Jasper, a foster dog who I also met on Lewes Beach. Coincidentally, Sally met Jasper's future family while walking on Lewes Beach. We went from strangers to friends. I immediately empathized with her the pain in saying goodbye to Jasper.
Socializing over Dog Snacks
The social aspect of owning a dog is huge, my close friend Pam says, who also uses baby talk. She and her husband Joe have always owned dogs, but retirement has meant that they have more time to share with them.
"When you walk a dog, you get to meet people. You run into your neighbors and know what is going on in the community," Pam told me. I remember that when they moved to Lewes more than a decade ago, Pam's daily walks with their Kerry Blue Terrier Gus introduced her to many people in Lewes, and even me, I think. As a matter of fact, Gus and Wilson became good friends. Believe me, you know. Gus would bark and Wilson would wag her tail. Of course, they also would sniff each other.
After Gus passed away, Pam and Joe eventually adopted Mico, an adorable multicolor labradoodle. Anticipation built as they waited for him to be born, and then met him as a tiny puppy before they brought him home.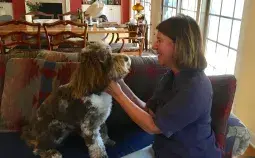 Pam says that dogs not only like to meet people, but they like to meet other dogs. Mico loves everybody.
"Sometimes, Mico wants to go on a walk just to get out and see who is around," she said.
Well, I've rambled on about people and dogs and still haven't completely hit on why we talk baby talk or how they bring joy into our lives. Maybe it is the trust in their eyes when they look into ours, or the dog smiles, the silly things they do, the understanding they seem to have of who we are when we don't know ourselves, or the friendships that they help us make. I just know that they touch us in a way I cannot describe. What do you think it is about man's best friend that brings so much joy to our lives?
---