Boomer Unchained: Motherhood Is: Scheduling Visits with Adult Children
I don't expect to spend Mother's Day this year with my two 30-something adult sons as we already have been working on this year's schedule of visits, and May is not on the list.
We'll still talk on the phone, find out how each of us are doing, and remind each other of the next time we will be getting together.
I see myself as among boomer moms whose adult children either live far away, or have work schedules that make getting together difficult on that Sunday. I imagine our stories are similar. We disregard the commercial hype, the TV and Facebook ads, and do our thing.
If I feel a tinge of sadness when I can't get together with my kids, that left-over pain I felt at the onset of "emptynesterhood" so many years ago, I purposely ignore it as I do a gloomy day, and focus on being thankful for the good things in my life. Gratitude is among the Jewish teachings I have been revisiting. It takes practice, but translates into excellent results.
Planning, Planning, Planning
My youngest son Lars, a commercial banker in San Francisco, called in March to discuss our 2017 schedule, lamenting that a May visit just won't work for him, but that I should send him available weeks in June and July for him to visit Lewes. We also are the planning for a few weeks around November and December to hit the holidays. I'll spend a few weeks in California at some point during that time.
My oldest son Michael, who also lives in California's Bay Area and is starting a web-based business, has confirmed that he will support whatever Lars plans for my California visit. There is no way he can take time off to visit me as he has changed his career path.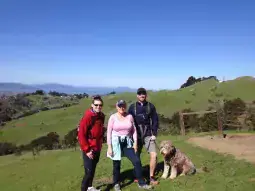 I am now watching for the lowest-priced nonstop flights between San Francisco and Philadelphia. Between you and me, there is supposed to be a price war on that route, possibly starting in August.  I am not mentioning the airline that will compete with American as I'm not sure if I have inside information. If the price is right, I may add an additional trip in August.
Of my closest friends living in Coastal Delaware, I am not the only boomer mom going through this scheduling challenge. For example, one of my friends who moved to Lewes from New York several years ago has to schedule to see her daughter, son-in-law, and two granddaughters who live in the Philadelphia area, less than two hours' drive away. While she sees them more often than I see my sons, she does lament the scheduling nightmare due to her granddaughters' many activities, and the work schedules of her daughter and son-in-law.
I have two other friends whose married daughters just moved to California, taking along with my friends' grandchildren. They now face the same problem as I, California is expensive to get to, expensive to stay in, and represents two days' travel and the planning and scheduling of activities and responsibilities here at home. I neglected to mention earlier that I also have responsibilities and activities I have to schedule around, including an aging dog and a few writing projects.
To fill my maternal need to nurture, and now that I have left a demanding job for freelance writing, I am keeping my eyes open for ways locally in which to share love and support where it is needed.  One of my boomer mom friends has started volunteering for CASA (Court Appointed Special Advocates), and has just been assigned to her first child.  She is thrilled, but also knows that her scheduling effort to see her grandchildren now has an added complexity. I would like to learn more about CASA program, as well as Read Aloud Delaware. I know they are among the areas this boomer mom can help other children, and add some worthwhile endeavors to my annual schedule.
---