Boomer Unchained: Spring's Energy Drives Our Trowels Into The Ground
The fourth of May reminded me of the Emily Dickenson poem, "A Light Exists in Spring:"
"A Light exists in Spring
Not present on the Year
At any other period —"
The temperatures that morning rose into the 70s as the sun's rays lit up the skies, even as threatening clouds moved toward each other. The rays warmed the grass and the deciduous trees and bushes that had finally turned a lush, new green. The rays highlighted the azalea blooms of white and shades of pink and red. Rain was in the forecast, but the sun's energy kept it away until mid-afternoon when the clouds, finally melted into an unbroken ceiling, releasing their contents to plummet upon us. Then, as if by magic, the sun's rays lit up the skies again, proving it was, indeed, spring.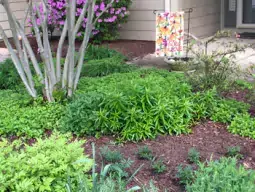 That morning, the intense light coming through my blinds energized me. I got up, threw on my jeans, and rushed over to Lewes Farmers Market, then onto the Lewes in Bloom plant sale on Second Street, and finally Lowe's gardening center on Route 1. I was not alone at any of those locations. People were everywhere, clearly responding to our innate connection to this season. The older I get, I believe it's an inner sense of survival that drives us, the urge to see new life, to experience rebirth, and to watch things grow. To see buds turn into tiny apples and pears; to see the hummingbirds arrive at the feeder for the first time; ducklings following their parents to the pond; and the osprey carrying fish to its nest. Isn't that what spring is about? The eggs. The bunnies. The sense of a second chance? The sense that there is goodness in the world, no matter what. How many religions have incorporated spring into their core beliefs?
Peter has been watching a dormant fig tree he planted last year to see if it survived the winter. He had even wrapped it in burlap during January's coldest days. Still, despite all his effort, its branches were bare. Each day through April, he walked out to see if there was any life in that little tree. There wasn't. We both lamented its death, remembering how healthy and strong it was all summer. Disappointed, Peter finally ordered a new fig tree online from Stark Brothers Nurseries and Orchards, which arrived with branches just as bare as the one in the ground, by the way.
On May 5, that very rainy Sunday, he went to replace the old tree with the one that had just arrived in the mail, only to find to his delight tiny buds emerging from the bare branches of one standing in his garden. He now has two fig trees. Spring's magical energy won, proving life goes on and perseverance and patience can often win out in the end.
Spring is my favorite time of the year. I can wake up at dawn and not feel tired (which never happens in January). I tried to wait until Mother's Day before considering planting annuals and perennials, supposedly the traditional date to replenish your garden, but after seeing Lewes in Bloom folks planting flowers a few days before, I figured it was safe for me. They must know something I don't. And, at Lewes Farmers Market, plants were for sale everywhere. Rows and rows of flowering petunias and marigolds, herb seedlings, young tomato bushes, and hostas stood before me. Ten and twenty-dollar bills were changing hands around me as visitors were choosing flats to take home.
For my little garden, I bought marigolds and a collection of herbs. Even as the rain poured down that afternoon, I dug up dandelions, wild onions and other weeds with names I don't know, and planted my assortment. When finished, I imagined a splash of yellow across my garden, and the sweet and pungent tastes to be added to my summer recipes. I then scheduled a future visit to East Coast Garden Center for later in the week to see what else I could buy to fill my empty pots waiting on the porch.
One friend says gardening is her therapy. She visited East Coast days before my Lewes Farmers Market venture, in the rain, to buy an assortment of plants for her garden and screened-in porch. Another friend told me she finds solace in her 'weed challenge' as she digs in her garden and looks up to see finches visiting the bird feeder hanging next to her porch. Peter happily talks about the peaches appearing on his two trees, and the irises that have begun to show themselves at the bottom of the yard next to the pond.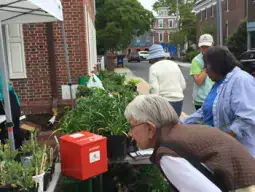 For many, spring means summer is just around the corner, with its hot days when we can lounge at the beach, jump in the waves, play golf or ride our bikes, and enjoy barbecues under southern Delaware's colorful sunsets and star-covered skies.
For now, it's a time to pause, to breathe and enjoy, knowing this short season will be gone before we know it. It's the fleeting transition before new greens turn dark and brittle, before the flowers fall from the azaleas, before the heat and humidity drive many of us indoors, and before we revisit such topics as health issues, money problems, and our nation's political turmoil.
As Dickenson wrote, "……it passes and we stay…"
---