Beebe's care and compassion add up to comfort
Image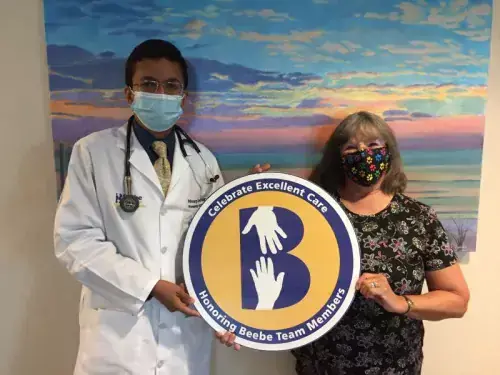 By Diane Barlow and Judy Wells
Judy Wells lost her husband, Arnold, to cancer Jan. 5, 2019. During his last days, he was taken by ambulance to Beebe Healthcare's Emergency Department in Lewes and then transferred to the ICU. As he neared the end, the emergency department doctors came to check on Arnold, and Chaplain Keith Goheen stayed with Judy.
Judy said, "It was such a personal experience. I couldn't ask for better care and compassion than what he and I received at Beebe."
Arnold was a native Delawarean and a veteran of the Korean War. He was also a member of the Delaware State Police before moving into a later career in real estate development. He and Judy built their house in Millsboro in 2013. He was treated for prostate cancer in 2002 and all was clear until 2016, about the same time the couple were officially married.
Arnold began treatments with medical oncologist Nisarg Desai, MD, at Tunnell Cancer Center. Under Dr. Desai's care, Arnold received radiation, chemotherapy, and trial treatments.
"He was the most compassionate doctor ever. He spoke so compassionately, and this made such a difference," Judy said.
Judy always encourages friends and neighbors to have their oncology care at Beebe. "It's a shame that many of my neighbors who are from New Jersey, Maryland and New York believe they need to travel back and forth for their treatments when they can have the same quality care here. Such a shame to waste precious time traveling," she said.
Arnold made gifts to both Beebe's Tunnell Cancer Center and the Margaret H. Rollins Lewes Campus through his will. He is now recognized as a member of the Shaw Legacy Society, which honors donors who have remembered Beebe with a gift in their will or estate plan. If you have already made provisions for Beebe Healthcare in your will, or would like to discuss a planned gift, please contact Gift Officer Diane Barlow at the Beebe Medical Foundation, 302-644-2900 or [email protected].
As a community-based, not-for-profit healthcare system, Beebe Healthcare depends on the generous support of the community it serves. To make a gift to celebrate the excellent care you or a loved one has received, visit Beebe Medical Foundation at www.beebemedicalfoundation.org or call 302-644-2900. Want to share your story? Contact Amanda Neal at [email protected].
Photo Caption: Judy Wells, right, celebrates the compassionate care her late husband Arnold received from medical oncologist Nisarg Desai, MD, at Tunnell Cancer Center. 
---