Cancer is scary – but Beebe Healthcare makes it less so
Image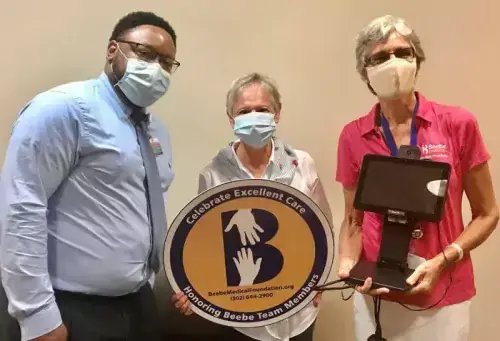 By Kathee Brown
I am a two-time breast cancer survivor who received treatment at Tunnell Cancer Center. My late husband and I retired to Fenwick Island, and I was first diagnosed in 2013. I was then diagnosed a second time in November 2018, four days after my husband passed.
 
During my first meeting with medical oncologist Dr. Nisarg Desai in January 2019, Nurse Navigator Kathy Cook was present. She gave me a concise and easy-to-understand summary of the next 52 weeks of care. I relied on Dr. Desai, Kathy, and radiation oncologist Dr. Jennifer Hung to help me memorize the possible side effects of my chemotherapy and radiation. If I had any questions about how to manage my side effects, Kathy promptly found the answer. If I had any scheduling conflicts, either with oncology or radiation, a team-determined schedule was printed and given to me. Always perfect!   
 
Everyone at Tunnell Cancer Center treated me with kindness and understanding. I always was involved in the decisions about my treatments, and I knew what to expect.
 
My medical needs were being treated, but I also needed help mentally dealing with the untimely passing of my husband and taking care of myself. A psychosocial services counselor at the cancer center, Clare Wilson, worked her schedule around my radiation and infusion treatments. This free service was such a bonus for me.    
Another bonus was the complimentary transportation service provided for me by Tunnell Cancer Center. The van drivers were very nice people and good drivers. My 45-minute trip became a pleasant ride, even on Fridays during beach season.  
 
During my final treatments, I sold my home in Delaware and moved to the Annapolis area, but I really wanted to say thank you to Beebe again in another way. Working with my employer, Touchrate LLC, I was able to donate one of our products, a no-contact infrared temperature screening device, to Beebe Healthcare. Thank you for the outstanding care – stay safe and keep up the good work!
 
As a community-based, not-for-profit healthcare system, Beebe Healthcare depends on the generous support of the community it serves. To make a gift to celebrate the excellent care you or a loved one have received, visit Beebe Medical Foundation at www.beebemedicalfoundation.org or call 302-644-2900. Want to share your story? Contact Amanda Neal at [email protected].
Caption: Kathee Brown celebrates the excellent care she received at Beebe Healthcare by donating a contactless temperature screening device. Shown are (l-r) Maurice Winkfield, Beebe Healthcare director of patient access; Brown; and Diane Barlow, Beebe Medical Foundation gift planning officer.
---