New benches donated for Beebe's Tunnell Cancer Center
Image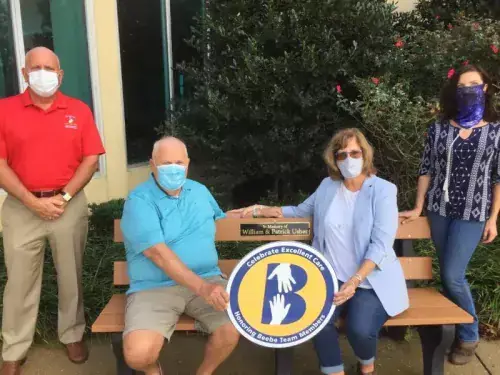 A year ago, I received a call from Beth Plaskus. She and her husband, Richard, had noticed there were no benches in front of the entrance to Tunnell Cancer Center, and they wanted to do something about it.
"People had no place to sit outside and wait for pickup from their caregivers, or just to sit and enjoy the outdoors," said Beth.
In addition to the meditation garden near the entrance to the cancer center, there once were benches when the center opened in 2006. However, they were wooden and became unstable over time.
Beth and Richard moved to this area from Cape Cod in 2016. Richard had been diagnosed with lung cancer more than five years ago, so they decided to move to Delaware to be closer to their two children who live in Virginia. Richard transferred his care to Beebe's Tunnell Cancer Center, and his recent checkup had shown everything was clear.
"We are both so grateful for the wonderful care, close to home at Beebe, and we want to celebrate this," said Beth and Richard. During a follow-up visit to Tunnell Cancer Center, they noticed the need for the benches.
Beth said, "I lost my oldest brother, William Usher, to cancer, and my nephew, Patrick Usher, had recently died, so we decided to purchase the benches to honor them and to make a useful gift to the cancer center."
Beth works part time at East Coast Garden Center, so she also decided to donate perennials to plant in a garden area behind one of the benches. Stacie Venables from East Coast Garden Center worked with her to create the design. The new benches are Trex brand, so they should enjoy a good, long life at Tunnell Cancer Center.
Beth and Richard Plaskus decided to celebrate Richard's excellent care at Beebe Healthcare's Tunnell Cancer Center while also remembering and honoring their loved ones with their gift. To participate in Beebe Medical Foundation's Celebrate Excellent Care program, contact the foundation at 302-644-2900 or [email protected], or go to beebemedicalfoundation.org and click on Ways to Donate.
Caption: Two benches and perennial plantings were recently donated to Tunnell Cancer Center by Richard and Beth Plaskus in memory of William and Patrick Usher. Beebe Medical Foundation President Tom Protack thanks (l-r) Richard and Beth Plaskus for their tribute gift and Stacie Venables of East Coast Garden Center for designing the new perennial garden. 
---