Ninety and grateful for Beebe's Dr. Palekar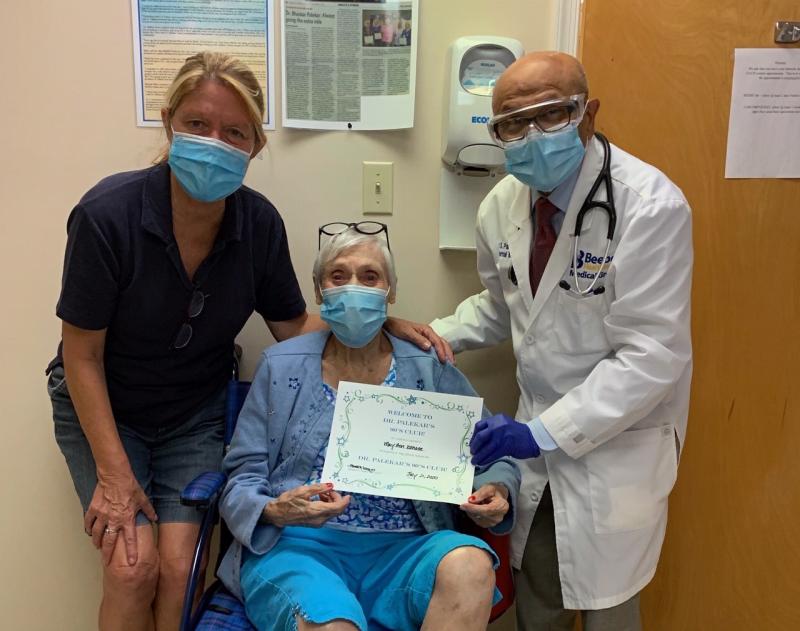 Mary Ann Kahane, center, celebrates the excellent care she receives from her daughter, Barbara Richards, and Beebe Healthcare's Dr. Bhaskar Palekar. 
By Amanda Neal
Mary Ann Kahane is a very special lady, and she recently was inducted into a very special club within Beebe Healthcare. Earlier this year, while visiting Dr. Bhaskar Palekar for a routine follow-up on her broken femur, Mary Anne was officially welcomed into Dr. Palekar's 90 Club. She was the first new member during the COVID-19 pandemic and, as he does with every new member, Dr. Palekar took time to celebrate.
 
Having practiced internal medicine in Delaware for over 40 years, Dr. Palekar began his 90 Club in 2012 to celebrate all of the nonagenarians (patients between 90 and 99 years old) in his practice. As of Sept. 1, his 90 Club is 150 members strong!
 
"The 90 Club is special to me because it is proof and a tribute to preventative care success over the years. It gives me pleasure to have this positive relationship with my patients, many of whom I have seen since I opened my practice in 1977. Now I am taking care of their great-grandchildren." said Dr. Palekar.
Mary Ann could not agree more. I had the pleasure of speaking with her and learning about her active life that took her from New Jersey to Alabama, then Florida and finally to Delaware. Her husband Stanley passed away in 2016 at Beebe Healthcare, and Mary Ann now lives with her daughter, Barbara Richards, who is a nurse at Beebe.
"I love Dr. Palekar," said Mary Ann. "He is knowledgeable, professional, nice and so full of energy! When I go to his office, I feel like I am home. It makes me smile. The staff calls me by name. When I call, they are prompt in getting back to me. I relied heavily on Dr. Palekar and his staff when I had my stroke – I trust him and his team more than anything."
 
A retired nurse herself, Mary Ann understands the pressures of caregiving and is very proud of her daughter Barbara, whom Mary Ann calls her "favorite medical advisor." 
My interview with Mary Ann concluded with her expression of gratitude: "I am thankful that Beebe and Dr. Palekar are here for me. And I proudly donate to the hospital to support healthcare for the entire community."   
 
As a community-based, not-for-profit healthcare system, Beebe Healthcare depends on the generous support of the community it serves. To make a gift to celebrate the excellent care you or a loved one has received, visit Beebe Medical Foundation at www.beebemedicalfoundation.org or call 302-644-2900. Want to share your story? Contact Amanda Neal at [email protected].
---