Beebe's Palliative Care Team Relieved My Fears
Image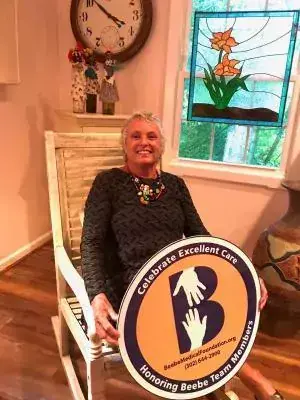 By Sharyn Santel
This letter is to Beebe Healthcare. Thank you for your Palliative Care program. Thank you especially for Dr. Katie Johnson.
Three years ago, I was diagnosed with ovarian/primary peritoneal cancer; stage 4. Because of my background as a chaplain who worked with cancer patients, I knew that if I was lucky, I had three years to live. I asked and it was confirmed.
For me, not death, but the end-of-life suffering with this disease is what I found horrifying. But I knew deep down that it didn't have to be like that.
Realizing that my spiritual and psychological issues needed assistance, I reached out to the Palliative Care program at Beebe Healthcare. The entire staff at Beebe could not have been more supportive through my entire cancer ordeal.
And then an angel appeared. Through sessions with Dr. Katie Johnson, Beebe's director of Palliative Care, I am no longer fearful of the end. Now that the time has come to make decisions about the quality of my life for the upcoming year, I have found her like an angel by my side guiding me through all the questions and concerns. 
Most people think palliative care is only for the dying, but I've learned that it's not. It's an approach that improves the quality of life for patients and their families facing life-threatening illnesses.
The most spiritual part of this care is the acceptance that dying is a normal process. Palliative care has helped me feel in control, even at my weakest point.
So here I am after three years looking into the mirror every day, sometimes bald, thinking, "Wow! Cancer? ME?"
Yes, it's true, I have cancer, but I also have Dr. Johnson, my angel, by my side, holding my hand and helping me through this.
I encourage anyone who is dealing with a serious illness, whether terminal or not, to reach out to this valuable service of Palliative Care that Beebe Healthcare provides.
Thank you to Dr. Johnson and all her staff for helping me and my family through these rough parts of life. Blessings.
As a community-based, nonprofit healthcare system, Beebe Healthcare depends on the generous support of the community it serves. To make a gift to celebrate the excellent care you or a loved one received, visit Beebe Medical Foundation at www.beebemedicalfoundation.org or call 302-644-2900. Want to share your story? Contact Amanda Neal at [email protected].
Caption: Relaxing at home, Sharyn Santel celebrates the care she and her family receive with Beebe's Palliative Care program. 
---