Celebrating Dr. Carlos A. Neves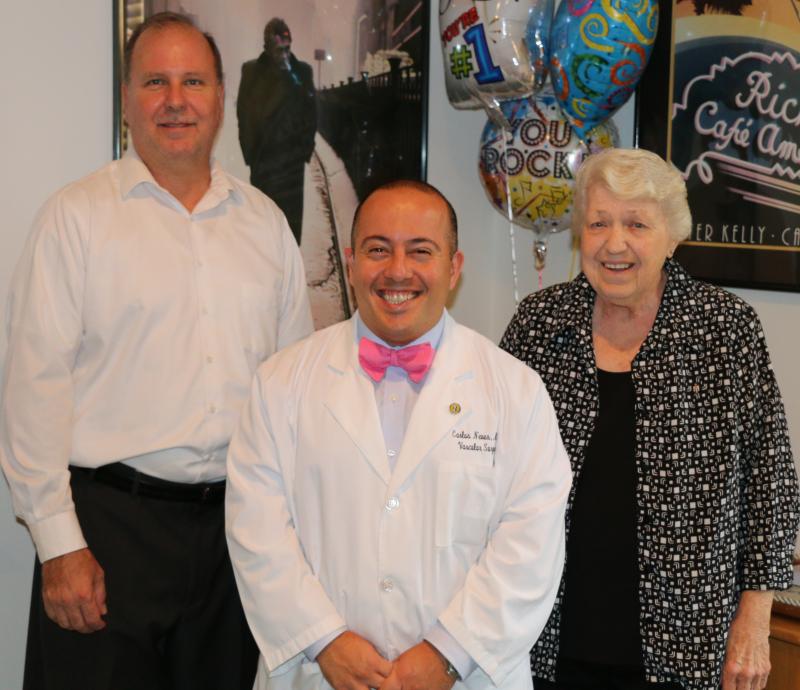 Caring, compassionate and competent are just a few of the words that Jackie McGuckin from Harrington uses to describe Dr. Carlos A. Neves, the vascular surgeon from Beebe Healthcare who saved her life.
Jackie had been through a number of tests and procedures over the past few years, and the results always came back the same. She had hypertension, bradycardia, and stenosis of the right carotid artery with a confirmed blockage of more than 70 percent. However, she felt healthy, and because she was a little apprehensive of having surgery, she kept delaying the procedure.
Many months after she was first diagnosed, her primary care physician, Dr. Manu Sehgal, insisted she see Neves. She first met with him at the Beebe Vascular location in Milford in spring 2017. After meeting with McGuckin, reviewing her test results, and discussing her history, Neves told her that she must have surgery as soon as possible.
"I immediately took a liking to him; he put me at ease and for the first time in many years, I was not afraid of moving forward with the surgery," Jackie recalls.
And so in June 2017, after years of being afraid and postponing the procedure, Jackie was scheduled for surgery at Beebe Medical Center.
"From the moment I walked into the hospital with my children and arrived at the Admissions Desk, I was put at ease. Everyone was so accommodating; there was such courtesy shown to us that it was hard for me to believe that I was here for major surgery. I wondered why I had put it off for so long! Everyone put me at ease, and immediately, I was surprisingly anxiety-free. I quickly developed a rapport with the anesthetist and the operating room nurses, and before long we were laughing and joking; they told me I would be spending the night after my surgery, and I was very comfortable with that. The next thing I knew, I was being wheeled into surgery.
"When I came out of surgery, the recovery nurse stayed close to me and was so comforting. And the staff nurses were all so attentive to my needs the entire night."
She remembers, "The next morning, Dr. Neves came in and talked to me and my children. He released me to go home, and soon afterward, a very nice gentleman came with a wheelchair to transport me to the car. He was so kind to me – just like everyone else had been through this entire visit to Beebe.
"My kids felt so comfortable with the entire staff," Jackie said. "They were so relieved that their mother was being treated so well, knowing how apprehensive I had been and how long I had waited to have the surgery. Everyone was so accommodating, and had answers to all of our questions. My children had met with Dr. Neves before and after the surgery and were as impressed as I was with the amount of time he took to explain the procedures and put us all at ease."
"It was like everyone was on happy pills," Jackie said. "There was not an ounce of negativity. When your kids don't have to worry about anything, then you don't have to worry."
On Jackie's follow-up appointment after the surgery, Neves told her that everything looked good and she wouldn't have to see him for six months. Jackie remembers, "All I could think about was how many more patients he could be putting at ease with their concerns while being very professional and making them feel safe in his very capable hands. I'm so grateful for his expertise and for convincing me that surgery was the right thing to do. He truly saved my life."
When Jackie was asked to share a little about Dr. Neves, her face lit up. "He's just as personable as he can be," she said. "You wouldn't even know he's a doctor – he's just a normal guy and doesn't flaunt his abilities. He can even take a joke! He has this way about him that immediately puts you at ease when you meet him. He doesn't tell you the severity of your problem, but you know what's important because he is honest. He told me I could have a stroke or worse! And then he pushed me gently toward taking some action, in a very caring and understanding way. There is no arrogance, just a neat guy. Not only did he answer all my questions, but he told me why, and explained everything in detail to me. Nothing was too imposing. I always felt like he took as much time with me as possible, and I felt like I was the only patient he had, even though I knew that was not so.
"I would recommend Beebe, and particularly Dr. Neves to everyone in this area," Jackie said. "I've even been thinking about moving just to be closer to the hospital! There is no negative approach to your health problems. I really hope Beebe continues to expand and grow in our area."
Dr. Carlos A. Neves made quite an impression on Jackie, and as she was recovering from her surgery she took the time to write a nice tribute to him:
Dr. Carlos A. Neves
C is for Caring, Compassion, Competent
A is for Accessible for any questions or concerns I had
N is for Never rushing you during your appointment; treating you like you're the only one.
"Put them all together, his initials spell CAN – and he can do it all. From now on I'll call him Dr. Can–Do because he is truly a credit to his profession.
"There aren't enough words to express my appreciation for Dr. Neves' bedside manner and the professionalism shown to me and my family," Jackie said. "I appreciate how he took the time to explain to me, in layman's terms, what he was going to do and how he was going to do it. I was impressed with all of the friendly staff and how they made me feel at ease by introducing themselves to me before the operation. Daniel Coleman once said, 'As work becomes more complex and collaborative, companies where people work together best have a competitive edge.' The staff at Beebe fits that bill. Thank you for making me feel safe in your hands."
Generous community support assists Beebe in bringing innovative new products and services to provide state-of-the-art care. This Saturday, Nov. 18, the Beebe Medical Foundation will host the 30th Annual Beebe Ball. The funds raised will support the construction of a new hybrid operating room at Beebe Healthcare's Lewes campus. The new hybrid operating room will allow Beebe's award-winning interventional cardiologists and vascular surgeons to perform a wider range of minimally invasive procedures.
Beebe Healthcare is a not-for-profit community healthcare system with a charitable mission to encourage healthy living, prevent illness, and restore optimal health for the people residing, working, or visiting in the communities it serves. For more information about Beebe's Celebrate Excellent Care program and how you can support Beebe Healthcare, the local nonprofit community healthcare system, contact the foundation at 302-644-2900 or visit www.beebemedicalfoundation.org.
Photo Caption: Celebrating Excellent Care are (l-r) Mark McGuckin, Dr. Carlos Neves and Jackie McGuckin.
---