Grateful to support Beebe Heroes 5K
Image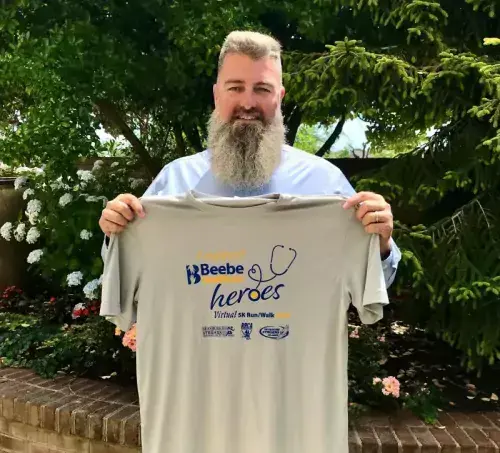 By Christian Hudson
My family has lived in Sussex County for 13 generations. My children will be the 14th generation to raise their families here. For decades, my family has been involved with and supported our local, not-for-profit, community hospital, Beebe Healthcare, because Beebe has cared for my family members for all of those generations. My four children are Beebe Babies, and as you can imagine, we have had countless visits, appointments and interactions with the Beebe team members. We consistently receive excellent care.
I'm also a proud personal supporter of Beebe. I serve as the chairman of the board of directors for Beebe Medical Foundation, and my wife and I are members of the foundation's 1916 Club. We also proudly supported the recent I Believe in Beebe campaign because we believe in the stability that a state-of-the-art healthcare system provides to our community's infrastructure.
As a business owner, I'm honored that Hudson Fields has hosted Beebe Oncology Services' Miracle Mile event at our site for the past two years. I'm also pleased to say that Hudson Fields is sponsoring one of Beebe's newest initiatives, the Beebe Heroes 5K Run/Walk at Irish Eyes in Lewes.
During the pandemic, Beebe Healthcare workers were truly redefined as heroes. And the community responded in an incredible way to support their tireless, faithful, around-the-clock service providing safe and excellent care to us all. So, I wanted to thank all the runners and walkers who are participating in this race live or virtually. I also wanted to thank the other organizations and individuals who are sponsoring this race.
But most of all, I want to sincerely thank Beebe Healthcare for the excellent care the entire organization provides to our community. Thank you for the wonderful opportunities you give each of us to support this hospital system that is so very critical to our expanding community.
As a community-based, not-for-profit healthcare system, Beebe Healthcare depends on the generous support of the community it serves. To make a gift to celebrate the excellent care you or a loved one has received, visit Beebe Medical Foundation at beebemedicalfoundation.org or call 302-644-2900. Want to share your story? Contact Amanda Neal at [email protected].
---