Heads Up! Remember to Cover Up
Image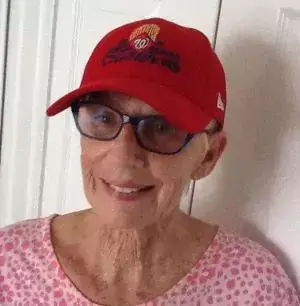 Heads up to all you ladies who love the outdoors! We all enjoy the summer breezes, the walks through the park, the sun beating down as we watch the ocean. But if you are like most women, including myself, you hate to cover "the 'do" on any occasion by wearing a hat or scarf. But when outdoors to have some fun, at any time of the year, I have learned it is best to cover up, and here's why.
When I was a teen, it was considered the thing to do to lie in the sun for hours to achieve that summer glow. In midlife I started seeing a few skin cancers of little significance on my arm. It was then that a dermatologist reminded me of my ill-spent youth in the sun and recommended covering up or applying sunscreen when outdoors. It was not until my senior years upon retiring at the beach that I have come to regret my lack of concern about those warnings.
As we age, our hair supply becomes less dense, thereby exposing our scalp. Recently, I noticed a spot on my scalp where a scab would not go away. When I did see the doctor, a biopsy was recommended. The result of skin cancer was not a surprise. Next up was the surgical removal of a dime-sized crusty spot in my scalp. I was familiar with the Mohs method for removal. After three tries, the removal spot had become silver dollar in diameter. My doctor explained the size of the dissection was too large to close in the office. The incision would be packed and stitched until I could be scheduled at Beebe Healthcare in Lewes for a second surgery under anesthesia, with possible skin grafting.
Beebe's second-floor same day surgery team was very caring and professional. As always when I have been a patient at Beebe, I am grateful for the excellent care I receive. I am consistently impressed by the nursing staff, anesthesiologists and technicians.
This was, however, much more intense than any skin cancer procedure I had to endure before. Thankfully, I did not need skin grafting, but closure of a scalp incision is much more involved than anywhere else on your body. After a few hours, I was sent home with a "baby cap" holding my bandaging in place, along with instructions for post-surgery.
Women need to be aware that the scalp is much more vulnerable as we age, and the best way to prevent skin cancer on your scalp is to protect it by wearing a hat whenever possible, and applying sunscreen on your scalp when it's not. Also important are limiting time in the sun, avoiding tanning beds and regularly checking your scalp. 
 
So, heads up and cover up! Forget about the 'do. Having clear scalp skin is much more beneficial than having a beautiful head of hair.
As a community-based, not-for-profit healthcare system, Beebe Healthcare depends on the generous support of the community it serves. To make a gift to celebrate the excellent care you or a loved one have received, visit Beebe Medical Foundation at www.beebemedicalfoundation.org or call 302-644-2900. Want to share your story? Contact Amanda Neal at [email protected].
 
---