By Susan Tucker
I am writing to celebrate the excellent care I received from Dr. Edward Jaoude and the staffs at Delaware Eye Clinic in Milton, DE and Beebe Healthcare's Outpatient Surgery Center.
I called Dr. Jaoude's office because for the first time in my life, my optometrist was not able to get a reading on my eyes at my annual eye exam – even though he performed two eye examinations. Feeling a little scared,
I went on to work and asked my colleagues if anyone had any Ophthalmologist recommendations. I heard great comments about Dr. Jaoude and now I know why!
My eyesight had become problematic. I was experiencing blurriness while driving at night, I was worried about working late or driving in the rain and I was having difficulty working on the computer. When I arrived at Dr. Jaoude's office, the staff was friendly and professional and Dr. Jaoude was impressively thorough. I was amazed at how in-depth they were from the beginning and, after Dr. Jaoude read my results he said I was a candidate for cataract surgery. He suggested moving forward with the procedure immediately and, because of how conscientious and meticulous Dr. Jaoude and his team were, I was confident of his decision.
My first cataract surgery was completed in October 2017 and the second surgery was completed in November 2017. Both surgeries were a breeze thanks to Dr. Jaoude and the terrific staff at Beebe Healthcare's Outpatient Surgery Center who kept me informed every step of the way. They and the staff at Dr. Jaoude's office also called to follow up with me after each surgery. My eyes are now great and I only need "readers"! I can't express how much these surgeries have changed my life. As Johnny Nash would sing, "I can see clearly now…" and that is all thanks to the care I received with Dr. Jaoude at Beebe Healthcare. I am a Beebe Believer, I donate to Beebe Healthcare and I am now Dr. Jaoude's patient for life!
As a community-based, not-for-profit healthcare system, Beebe Healthcare depends on the generous support of the community. All gifts to Beebe are tax-deductible and are channeled through Beebe Medical Foundation. For more information about Beebe's Celebrate Excellent Care program and how you can support Beebe Healthcare, contact the Beebe Medical Foundation at (302) 644-2900 or [email protected].
Photo caption: Dr. Joude and Sue Tucker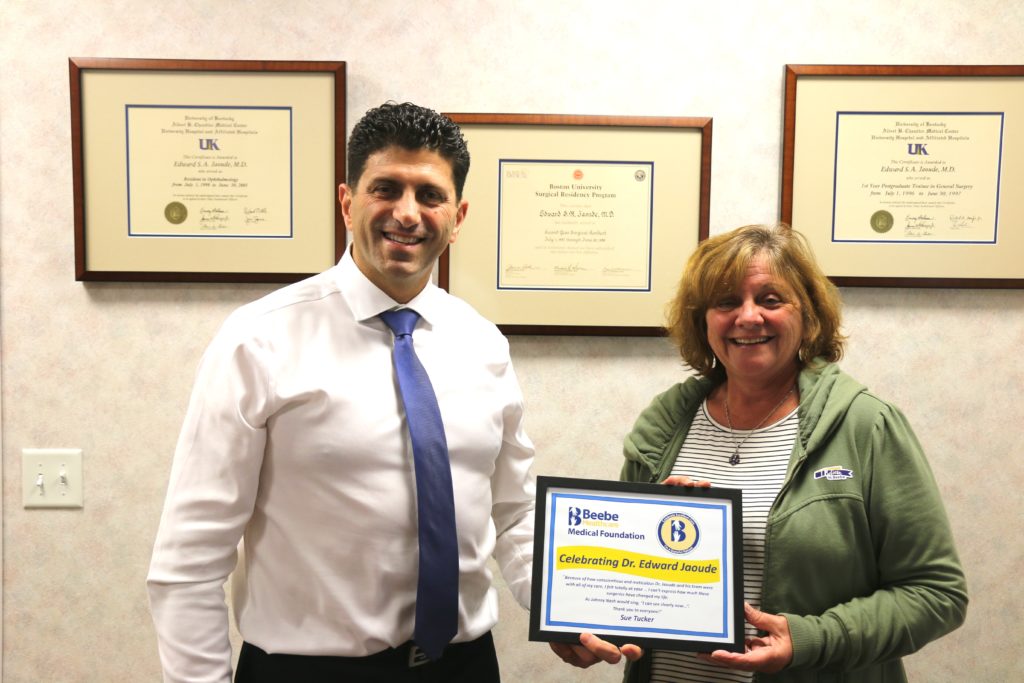 ---