It's never too late to celebrate!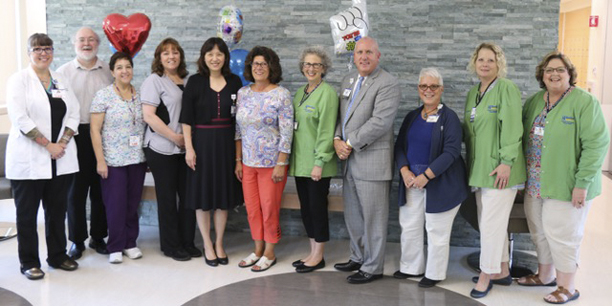 Almost a year ago, Emilie Paternoster received some bad news about her health. She was informed that she could have thyroid cancer, with a very strong possibility of surgery to remove it. Like many patients who hear the word "cancer," Emilie began an emotional roller coaster ride of worry and anxiety weighed down with a lot of questions about life, prognosis and outcomes. A strong and successful businesswoman, Emilie knew she had to move quickly and tackle this news with the fastest and highest level of strategy. Emilie had a needle biopsy, and the results still did not rule out cancer. Her thyroid was successfully removed, but not her ongoing questions and anxiety.
Emilie reached out to Jody Barbarulo, a patient advocate and a member of Beebe Healthcare's Patient Experience Department. "Jody gently and professionally stewarded me to help me find peace, understanding and answers about my results," said Emilie. It was time for Emilie to fully comprehend her condition and if she was going to ever need future courses of treatment.
Jody said, "My role as patient advocate is to listen to the patient's concerns about care and treatment, and any experience they may have had with Beebe Healthcare. I know Emilie as a member of the Patient Family Advisory Committee and a wonderful supporter of Beebe Healthcare and the Beebe Medical Foundation. I listened carefully to her questions, and my role was to find the best clinical staff member to address her questions and help her to understand the information she was given. My contact with the laboratory and pathology led me to the involvement of Dr. Chen, who was the expert and the best possible person to speak with Emilie."
Emilie not only found a great friend and guide in Jody to help answer her questions and relieve her anxiety, but she met Dr. Xiaoli Chen, a pathologist and medical director of Pathology and Laboratory services at Beebe Healthcare. "Dr. Chen was delightful. She explained the results of my thyroid needle biopsy that led to my thyroidectomy and the thoroughness of the specimen review and analysis that was conducted. She was calm, pleasant, and explained things to me in an uncomplicated way. Her delivery and explanation kept me calm, so that I was very comfortable," said Emilie.
"I was pleased to see that Emilie was actively participating in her care and appreciated that Emilie allowed our team to be a part of her care. Our team constantly strives for high-quality patient care," remarked Chen.
It has been over a year, and Emilie is doing well. She is one of the many grateful patients who decided to celebrate the excellent care they received at Beebe and to take the time to recognize the Beebe team members who made a difference by making a donation in their honor. Emilie laughed as she said, "It's never too late to celebrate, and seeing the Patient Relations team and the Pathology/Lab team once again really was a true celebration for all of us. I am so grateful to have Beebe in our community. Their care, their constant attention to detail and their follow-up are stellar. I encourage everyone to support and donate to Beebe, our local nonprofit community healthcare system. After my time with Jody and Dr. Chen, I can say I finally sleep well at night."
To learn more about how you can take the time to recognize a Beebe team member who made a difference in your life or the life of a loved one, contact the Beebe Medical Foundation at 302-644-2900 or [email protected].
Photo Caption: Shown celebrating excellent care are (l-r) Loretta Savage, Dr. Joe Depenbusch, Angie Domenick, Laurie Brittian, Dr. Xiaoli Chen, Emilie Paternoster, Jody Barbarulo, Thomas Protack, Andrea Hanna, Jeannie Wallo and Catherine Walls.
---