For Lois Gilpin: A gift from the heart to people who cared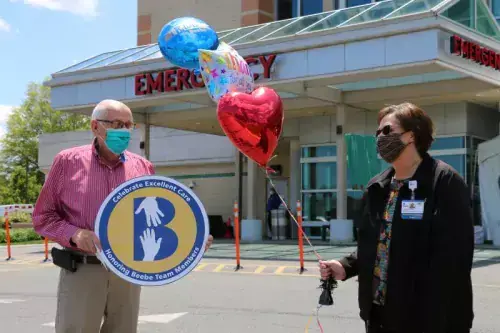 Recently, my good friend Catherine Walls from Beebe's Patient Experience Team introduced me to one of her good friends, Ed Gilpin. I met Catherine and Ed in the parking lot outside the emergency department, where I took the picture that accompanies this article. I asked Ed if I could call him later so he could share his story with me. This is Lois and Ed's story. It is a story about a place full of people who are very near and very dear to Ed's heart.
"Lois and I started coming here in the 1970s, part time. Since we moved here full time in 1992, we've always considered Lewes our home, our town. We're married for 67 years. We're childhood sweethearts. We met each other in high school. All of our family is now out of state. We have three sons. Our youngest, Gary, lives in Baltimore. Craig and his wife Kimberly live in Culpeper, Va. Our oldest son, Douglas, and his wife Susan live in Maiden, N.C.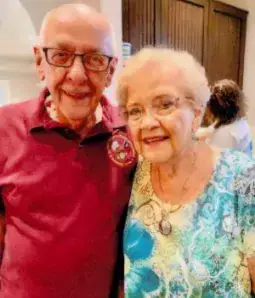 "We're basically down here on our own, away from our family. Last year, Lois was 86 and I was 89. All of the friends that we moved down here with, well, they're all gone. They're either dead, or in nursing homes, or in Florida. We always received such wonderful care at Beebe, in little things, like expressions of kindness, in assistance, in special concern for Lois while she was there. They were just so sweet. 
"The nurses on the fourth and fifth floor, that's where Lois spent most of her time at Beebe. Not to forget the people in the emergency department, when she was brought in there by ambulance. They were always wonderful, too. We always felt like we were at home. People were truly concerned. Nothing was too much trouble – an extra pillow, an extra blanket. The caliber of all of the people. They were all so nice – to me, too. The nutritionists, the hostesses were so very kind. They would bring me an extra dinner because I would be at Lois' side from 10 a.m. to 10 p.m."
On Nov. 9, 2019, Lois Jane Gilpin died peacefully at home from ovarian cancer.
"This gift to Beebe is in her memory," Ed said. "Lois was my baby doll; this gift comes from my heart. It's been a long time coming, because Beebe has served my wife's and my health needs since the early '90s. This is my first opportunity to give back to the people who have given us so much. For the care and the genuine respect that was given to Lois and to me. Never did we feel out of place or have any fear about what might happen next. We were just comfortable there, at Beebe, at home.
"Catherine Walls visited regularly while we were in the hospital. We were also visited by Rick Schaffner, your chief operating officer; he would come in and spend time with us too. Catherine and Rick would speak with me and Lois like we were family. Catherine also followed up for several weeks after Lois had passed, to make sure I was OK. She would always ask if there was anything she or Beebe could do to support me. We talked about things in and around Lewes. I knew some of her family from my job with the city. Catherine is now like family to me. 
"At my age, I'm now 90, I've been around a few hospitals in Baltimore. I'll tell you, as far as I'm concerned, none of them has shaped up to what Beebe has been to us. That's why I called Catherine, to let her know that I wanted to do this, to make this gift, for Lois."
Ed took his stimulus check and made a gift to join Beebe Medical Foundation's 1916 Club in memory of his loving wife, Lois, and in honor of Catherine Walls and all of Lois's caregivers at Beebe Healthcare.
As a community-based, not-for-profit healthcare system, Beebe Healthcare depends on the generous support of individuals, local businesses, corporations and private foundations. To make a gift to Beebe Healthcare in support of the COVID-19 Relief Fund or any of the hospital's other initiatives, go to www.beebemedicalfoundation.org or call 302-644-2900.
Captions: Top: Ed Gilpin celebrates the excellent care his wife, Lois, received at Beebe along with his friend Catherine Walls, Beebe Healthcare's Patient Experience Program coordinator.
Middle: Ed and Lois Gilpin found caring, sincere concern for their needs, and dedicated support from everyone they met at Beebe.
---