Nurse went the extra mile in my care
By Katelynn Von Den Bosch
On the evening of Dec. 26, 2021, I was 37 weeks pregnant with my second daughter and I decided to go to Beebe Healthcare's Labor and Delivery for what I thought would just be monitoring of my blood pressure. I was shocked when I got the news I would be delivering my daughter that night via C-section.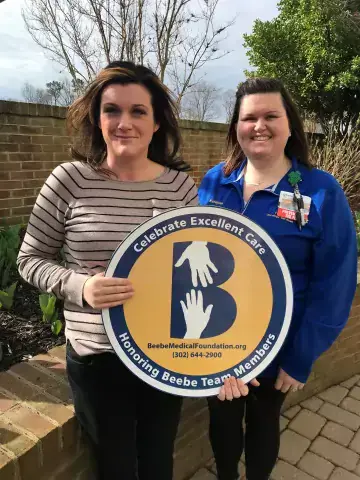 Michelle Halliday was my nurse - and she ended up being my angel. I was a nervous wreck going into the operating room due to my past trauma delivering at a different hospital with our first daughter. Having Michelle by my side made it a little bit easier.
It was decided that I would need to be placed fully under anesthesia for my C-section. This meant my husband would not be allowed into the room to see our daughter born. And this is where Michelle became my angel that night. She knew right away I was upset, and as the mask went over my face to start the process of being fully sedated, I felt someone grab my hand. I looked over, and it was Michelle. She was the last thing I saw before going fully under.
At that moment, while I was worried about not being able to tell my husband I loved him before going into the OR, I knew if anything happened to me, Michelle would be right by his side like she was for me in that moment.
I'm delighted to say that my C-section was a very successful delivery and we welcomed a beautiful, 8-pound, 9-ounce baby girl.
The morning after my C-section, Michelle came in to say goodbye. She said it would be the last time we saw her because she was not scheduled to work again till Dec. 31, and we were hoping to be home by then. However, we got lucky! At 2 a.m., Dec. 29, Michelle popped in.
She had come into help out until 6 a.m. and ended up staying until 11 a.m. to help the floor. But Michelle helped us one more time. She ended up staying a few extra hours to make sure our daughter's lab work was done promptly so we could be discharged.
Thankfully, we were able to take our baby home that evening and were sad that we didn't get to say goodbye and thank you to Michelle. I cannot thank her enough for all she did for my daughter, my husband and myself.
When I talk about my labor and delivery experience, Michelle is always in my story! She played a huge role in my experience. I am proud that I choose Beebe for my labor and delivery experience. I am even prouder to be a Beebe team member and a Beebe donor supporting healthcare in this community, and standing by the amazing Beebe values that Michelle showed to my family and me during our stay. Thank you!
As a community-based, not-for-profit healthcare system, Beebe Healthcare depends on the generous support of the community it serves. To make a gift to celebrate the excellent care you or a loved one has received, visit Beebe Medical Foundation at beebemedicalfoundation.org or call 302-644-2900. Want to share your story? Contact Amanda Neal at [email protected].
---