Amazing care with stroke partnership at Beebe
By Linda Tobin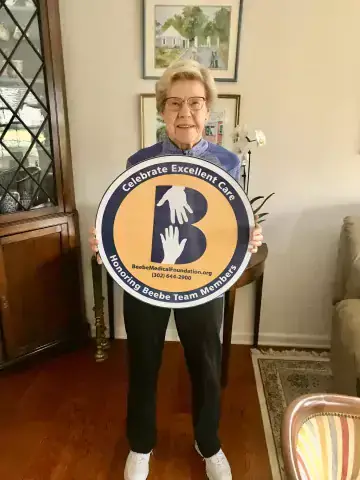 My mother is an exceptional woman. She is a lively 90-year-old, and she is also a newlywed. She and her 91-year-old husband, Henry, tied the knot during the pandemic – yes, my mom had a COVID wedding!
Sadly, one day a few weeks ago, my mother started showing signs of what appeared to be a stroke. Henry called 911, and the Emergency Medical Services team rushed her to Beebe Healthcare Emergency Department in Lewes. Our family has always appreciated Beebe, and we have always received excellent care. The care Mom received the day of her neurological episode was no exception.
When the EMTs got her to Beebe's Emergency Department, mom was immediately taken to have a CAT scan. By the time I arrived, only minutes later, she had completed the CAT scan and was resting in an exam room in the emergency room. Everyone was exceptional, attentive and professional.
Because of a partnership between Beebe Healthcare and Jefferson University Hospital in Philadelphia, the Beebe team brought a laptop into my mom's exam room, and right there on the screen was a neurologist from Jefferson. He had already read my mother's CAT scan. Initially he recommended Mom be immediately airlifted to Jefferson, but after further discussion, he asked Beebe to perform an additional CAT scan, this time with contrast. I was blown away by the technology I was witnessing, and the efficiency of the system in place between Beebe and Jefferson. I knew we were in good hands as my mom was whisked away for another CAT scan.
We ended up keeping Mom at Beebe, and the great care did not end in the emergency department. Mom was transferred to a room where hospitalist Welisane Bebe, MD, demonstrated amazing compassion. She leaned down on my mother's bed to speak in her ear so Mom could hear and better understand what was going on with her care. I was so thankful for the incredible kindness of this physician.   
Mom is doing amazingly well and, once again, we are so thankful for Beebe. The doctors, nurses, assistants and CAT scan team were excellent.
Thanks, Beebe, for the care you always provide to me and my family. Thank you for building partnerships and engaging technologies to care for us and our community.
---