Paying It Forward To Our First Responders
Image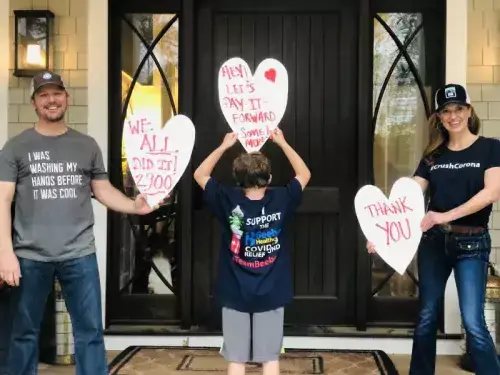 The Cape Gazette published an article April 7 on the unique #CrushCorona initiative. Kathleen Schell and Justin Healy of Ocean Atlantic Sotheby's challenged the community to purchase restaurant gift cards in increments of $25 or more and donate them to Beebe Medical Foundation for distribution to Beebe Healthcare's 2,900 employees. The purpose was to provide meals to frontline Beebe caregivers during these uncertain times.
As Kathleen Schell posted April 25 on the #CrushCorona Facebook page: "Our #CrushCorona tribe has not only met but exceeded our goal of 2,900 gift cards purchased from local restaurants and donated straight to #TeamBeebe! That's over $72,000 put back into our amazing restaurants and sent with love to our frontline at Beebe! Thank you to every single person who so generously donated gift certificates – we did this together in three weeks!"
Kathleen challenges the group to keep paying it forward to other first responders such as emergency medical technicians, firefighters, police, and paramedics. Her challenge to the community was to collect and distribute 1,000 more restaurant gift cards in increments of $25 or more to these frontline heroes.
Beebe Medical Foundation is proud to continue supporting this effort. By organizing, facilitating and distributing these #CrushCorona gift cards to our local police and fire departments as well as our emergency medical services workers, the foundation is recognizing more first responders in our community.
Beebe Healthcare President and CEO Dr. David Tam commented on the effort: "Beebe is proud to pay it forward as we work collaboratively with all our great first responders here in Sussex County. As we have heard so many times during this pandemic, 'We are all in this together.' Thank you to all our great donors to Beebe and those who will donate restaurant gift cards to our larger first responder family. I am very grateful to the team at the Beebe Medical Foundation for making this happen."
"The first responders of our community are on the front lines of the pandemic," said Todd Hickman, regional vice president of NVR Inc., and a firefighter with Bethany Beach and Millville volunteer fire companies. "EMTs, paramedics, firefighters, and police officers are compassionately helping the ill while we as a community navigate this crisis. In doing so, they put themselves at great risk. As a local business leader and first responder, I am thrilled that #CrushCorona has been expanded to recognize the efforts of these local heroes, and thanks to the Beebe Medical Foundation for their support of the community."
Watch Facebook pages for #CrushCorona and Beebe Medical Foundation as these gift cards are delivered!
As a community-based, not-for-profit healthcare system, Beebe Healthcare depends on the generous support of individuals, local businesses, corporations and private foundations. To make a gift to Beebe Healthcare in support of COVID-19 RELIEF FUND, #CrushCorona Challenge, or to support any of its healthcare initiatives, go to www.beebemedicalfoundation.org or call 302-644-2900.
#CrushCorona gift cards can be dropped through the mail slot in the front door of Beebe Medical Foundation at 902 Savannah Road, Lewes. Donors are invited to take a photo and post their support for Beebe Healthcare and community first responders on Facebook.
---