Grateful to be home during lockdown
Image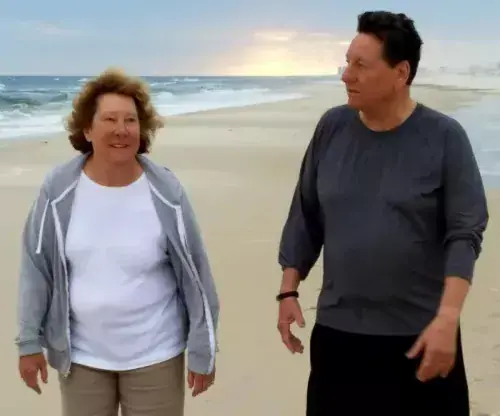 My husband, Preston, and I enjoy walking together. Typically we log about two miles with each outing. A few weeks ago, however, we were only a couple of blocks from our house when I felt a little short of breath. 
I didn't think much of it and simply returned home. The next day we headed out for another walk and the same thing happened - so I returned home again. 
The morning after my second abbreviated walk, I woke up with chest pain when trying to take a deep breath. It got worse as the day went on. I called my oncologist – I've been in treatment at Tunnell Cancer Center since 2012 – and he said to call 911, so I did, immediately! The ambulance came, and as I left for the emergency department, I had to wave goodbye to Preston. He was not allowed to come with me to the hospital due to COVID-19 restrictions. That was brutal. 
Arriving at Beebe, the staff immediately assessed my symptoms and medical history, and decided that I should be tested for the COVID-19 virus.
I was apprehensive and a little afraid, but the team at Beebe took great care of me. I spent two long days in isolation. Thankfully, my COVID-19 test came back negative, and I was discharged from Beebe with medication for my symptoms. 
I am so grateful to be home! I promised Preston I will never complain again about being housebound - and he promised to remind me of that.
The medical staff at Beebe Healthcare is outstanding. Because I was in isolation, every time they came into my room they had to gown up and then throw it all away before they left the room. We've all heard about the shortage of personal protective equipment for medical personnel, so I decided to make a donation to Beebe. I wanted to help replenish the equipment I had seen them discard as they cared for me and kept the rest of Beebe's patients and staff safe. 
I am grateful for Beebe. And I am also grateful just to sit in my house, with my husband, and read a book, knowing I will see my children and grandchildren soon.
As a community-based, not-for-profit healthcare system, Beebe Healthcare depends on the generous support of individuals, local businesses, corporations and private foundations. To make a gift to Beebe Healthcare in support of the COVID-19 Relief Fund or any of the hospital's other initiatives, go to www.beebemedicalfoundation.org or call 302-644-2900.
Caption: Sharon Keegan-Coppels and Preston Coppels enjoy one of their many walks on the beach. This photo was taken prior to the COVID-19 pandemic and prior to cloth mask regulations. 
---