On the road to recovery thanks to great care at Beebe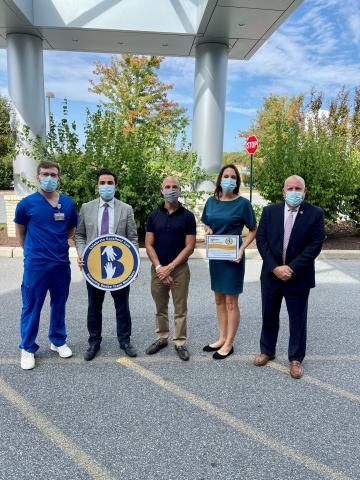 By Jason Abela
This letter is a message of thanks and gratitude for Dr. Tarek Waked and his team. Because of the great care I received from them, I'm on a healthy road to recovery from my recent hernia repair surgery.
Earlier this year, as I was working out at the gym, I hoisted a weight into the air and felt an unusual strain in my abdomen. While I "noticed" the strain, I didn't think a whole lot about it and continued my work out, albeit with lighter weights.
Soon after feeling that initial strain, I spoke to my primary physician who identified it as a hernia. I was referred to Dr. Waked for an evaluation and, sure enough, I had an abdominal hernia!
When I met Dr. Waked, he was more than kind and understanding. Although I'm sure he sees and treats hernias routinely, he took the time – I've never had surgery before – to assure me that my hernia could be repaired.  He walked me through the procedure and explained it in detail. I was very anxious, but he calmed my fears by assuring me that it would be minimally invasive.  
The day of the procedure was much the same. A very calming presence, Dr. Waked performed the procedure exactly as he had promised! The incisions were minimal and – with many thanks to Dr. Waked and his team - my recovery period was not as bad as I anticipated. I couldn't be happier!
But the support I received did not end there. Initially hesitant to continue with some of the activities that I enjoy, like yoga and running, Dr. Waked and his staff listened patiently to my concerns and suggested some ways I could reinstate activity while giving my body ample time to heal. Today I'm feeling pretty much back to normal with a reasonable restriction not to lift anything over 30 pounds for a bit longer.
So, in a nutshell, I wanted to say THANK YOU to everyone at Beebe. From Dr. Waked and his team to all the nurses who were so diligent and professional while also being kind, I am grateful that I had a firsthand opportunity to experience how much everyone at Beebe really cares about their patients. You are all wonderful!
As a community-based, not-for-profit healthcare system, Beebe Healthcare depends on the generous support of the community it serves. To make a gift to celebrate the excellent care you or a loved one has received, visit Beebe Medical Foundation at beebemedicalfoundation.org or call 302-644-2900. Want to share your story? Contact Amanda Neal at [email protected].
Tarek Waked, MD, FACS, FASMBS completed his residency in general surgery at INOVA Fairfax Hospital in Virginia, USA. During his years of training, Dr. Waked received multiple awards for his skills and knowledge in surgery. Following his training in general surgery, Dr. Waked joined the Mayo Clinic in Minnesota where he completed a fellowship in minimally invasive and bariatric surgery. Mayo Clinic in Rochester has been at or near the top of U.S. hospitals throughout the history of U.S. News & World Report's "Best Hospitals" rankings. In addition to its No. 1 overall ranking, Mayo Clinic in Rochester has more No. 1 rankings in medical specialty areas than any other U.S. medical center.
Caption: Photo of PSR Francesco Malone, Dr. Tarek Waked, patient Jason Abela, Program Manager Kimberly Hyatt and BMF President Tom Protack
---